PRESS RELEASE
Law&Crime launches limited edition wine collection with Dan Abrams' Ev&Em Vineyards to honor fallen officers
---
Unique Bordeaux style blend will also benefit national non-profit organization, Concerns of Police Survivors (C.O.P.S.)
NEW YORK — Top legal and true crime network, Law&Crime, and Ev&Em Vineyards is proud to announce the launch of its new limited edition wine collection honoring police officers tragically killed in the line of duty.
The collection features 30 unique bottles of a vintage bordeaux-style blend from Ev&Em Vineyards, each labeled with the names and of an officer who has fallen in the line of duty, as well as a written tribute commemorating their service. Law&Crime and Ev&Em will be donating 20% of all proceeds to C.O.P.S. to further assist in their mission of commemorating officers' lives lost by providing direct aid to impacted survivors.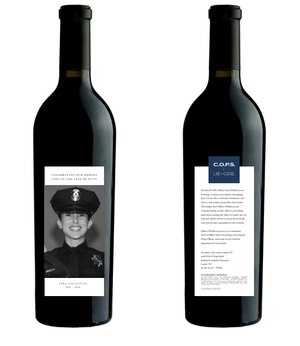 "Both Law&Crime and Ev&Em Vineyards are honored to be able to bring awareness and remembrance to those who served to protect and lost their lives doing so." said Dan Abrams, Founder of both Ev&Em and Law&Crime, "and I think we have created a terrific red wine that serves as an important tribute."    
The launch of the Fallen Officers Collection follows the amazing 2022 harvest of Ev&Em Vineyards, a luxury winery in Laurel, NY.
The new wine collection will be available for purchase at Ev&Em Vineyards on Saturday, August 26th. Dan Abrams will be in attendance alongside his On Patrol: Live co-host Sean "Sticks" Larkin, as well as some of the families of the officers being honored and dedicated members of the C.O.P.S organization.
ABOUT LAW&CRIME NETWORK
From the high-profile cases to the most compelling local trials, Law&Crime is the leading network offering daily live trial coverage and expert legal commentary and analysis. Created by TV's top legal commentator and attorney, Dan Abrams, and backed by A+E Networks, Law&Crime is dedicated to exploring the always intriguing world of the law while also offering original true crime stories and legal programs to a broad, multi-platform audience. Law&Crime is available on basic cable packages in most states in the country and on leading OTT services including YouTube TV, Peacock, Sling, fuboTV, Philo, Xfinity, XUMO and Samsung TV Plus, among many others.
ABOUT EV&EM VINEYARDS
Purchased by Dan Abrams in 2020, the name was changed to Ev&Em Vineyards in honor of his children, Everett and Emilia. In 2021, the tasting room and wine making facilities were completely renovated and upgraded with the goal of producing world-class wines in one of the most stunning locations. Upon his first visit to the winery, Dan immediately fell in love with the location, natural beauty, and raw quality of the estate. Now the 2022 vintage has already lived up to that promise.