FirstNet brings first responders innovative mission-ready communications tools
Ways FirstNet is bringing innovation into the field to strengthen situational awareness and incident response
---
Content provided by FirstNet Built with AT&T
By Mike Barney
Mission Critical Solutions, FirstNet Program at AT&T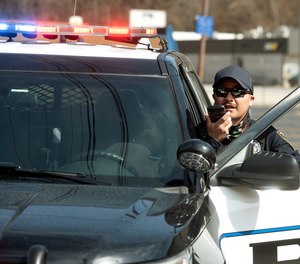 Emergency situations evolve rapidly. There is no greater example than the Sept. 11, 2001 terrorist attacks. The attacks changed our world forever, exposing a glaring weakness in our communications systems. First responders could not communicate and many lost their lives. This resulted in a call for the creation of a nationwide public safety communications network purpose-built for first responders.
That's why FirstNet was born. Here are three ways that FirstNet benefits first responders.
First, FirstNet is interoperable. Today, first responders can communicate with each other regardless of location, jurisdiction, discipline, device or wireless carrier.
Second, FirstNet is built with and for first responders, with a:
Dedicated, physically separate network core.
Band 14 spectrum specifically set aside for public safety and dedicated to FirstNet users when needed.
Dedicated response operations program with over 150 dedicated deployable assets.
Dedicated Security Operations Center to monitor for physical and cyber threats 24/7.
And finally, FirstNet is intentional. In 2017, the First Responder Network Authority contracted AT&T to build and maintain the first ever nationwide communications network for first responders. FirstNet is America's Public Safety Network – with the tools and technologies first responders need to complete your mission.
The right tools for the job
As a law enforcement officer, you need  the best technology available – especially when seconds count. Whether you're investigating suspicious activity or racing to help someone who is severely injured, you need the right tools to do the job.
Today's innovative technology can help reduce the minutes between the 9-1-1 call and your presence on the scene.
FirstNet can help equip your vehicle with the latest technology – helping you create your own "Connected Vehicle," so you can quickly share important situational awareness data with other responders.
By incorporating Connected Vehicle technologies into your response operations, you'll have access to interoperable communications over wireless connectivity. This means you can communicate with each other regardless of location, jurisdiction, discipline, device or wireless carrier.
When and where you need it
Accelerating your response time helps you keep your communities safe. Plus, Connected Vehicle technologies can help you create a mobile office environment in your vehicle and reduce your downtime so you can better serve your community.
As public safety's partner with FirstNet, AT&T* has launched innovative public safety-centric solutions to modernize communications for first responders – for emergencies and normal operations. These include:
Mission-Critical Push-to-Talk: With the launch of FirstNet Rapid Response, public safety now has 2 choices for mission-critical push-to-talk (PTT) solutions, plus enhanced land mobile radio (LMR) interoperability capabilities. FirstNet Push-to-Talk now supports mission-critical video streaming and PTT calling over Wi-Fi.
FirstNet MegaRange: FirstNet is the only network where public safety can take advantage of the highest power class signaling available in the U.S. with FirstNet MegaRange the high-power user equipment (HPUE) solution exclusively available on Band 14. For rural, remote and maritime first responders, MegaRange can significantly improve connectivity especially at the edge of network coverage. And for urban and suburban responders, it can help solve the common challenge of difficult coverage spots. The stronger signal may better assist those connecting from hard-to-reach places like building shadows, parking garages, basements, elevators, and stairwells, helping first responders communicate inside and out. Learn everything you need to know about FirstNet MegaRange here.
In-Building Situational Awareness: Public safety organizations can now enhance their in-building wireless communications with the Cell Booster Pro – an enterprise-grade mini cell tower that provides reliable connectivity for public safety on FirstNet. We've also enhanced Z-Axis for FirstNet to give public safety an "altimeter view" or vertical visualization that shows the relative positions of first responders and incidents, as well as the ability to mark important areas within the building.
The new FirstNet Emergency Response Kit is a protective case that can hold and simultaneously charge up to 20+ FirstNet Ready devices that agencies can then disperse to responders in the field following a major incident.
"We've made remarkable progress in only 5 years, working alongside the first responder community to deliver FirstNet and its entire ecosystem of mission-centric tools – all designed specifically for them," said Jason Porter, president, public sector and the FirstNet program at AT&T. "As technology rapidly evolves, we'll continue to create innovative solutions and equip public safety to further strengthen their situational awareness and incident response in any emergency. We're moving fast, prioritizing this vital community, not just because it's what they asked for, but because it ultimately helps people across the country stay safe. And we'll continue to lead the industry, providing interoperable, end-to-end emergency communication solutions for decades to come."
*FirstNet and the FirstNet logo are registered trademarks of the First Responder Network Authority. All other marks are the property of their respective owners.

Request information from FirstNet Built with AT&T
Thank You!