What does the next 50 years hold for 911?
February 16, 2018, marks the 50th anniversary of 9-1-1. Let's take a look at what the future holds for our nation's emergency number.
---
Fifty years ago at 2 p.m. on February 16, 1968, the first 9-1-1 call was made in Haleyville, AL.
Public safety professionals descended on Washington, D.C., to celebrate this achievement at the annual 911 Goes to Washington event co-sponsored by the National Emergency Number Association (NENA) and the NG9-1-1 Institute. During this annual event, responders discuss 911 issues and network with Congress to provide outreach and education about the history, complexity and current status of our 9-1-1 centers across the nation.
History of 911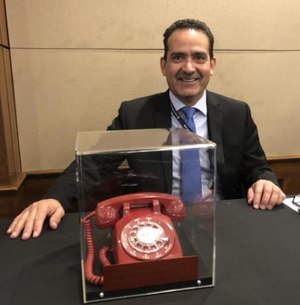 Before the advent of technology, town criers would summon help by running up and down streets announcing the emergency, which in turn typically got a town watchman (a term used before police officer) to respond, as well as community members.  
By the 1920s, call boxes were installed at key locations in a town where first responders could go to receive a call for service or call into the police or fire station to report an incident in the community.
In the early 1950s, independent telephone companies and telephones in homes and businesses were becoming common in the United States. However, if you needed a first responder for an emergency, you dialed a 5- to 7-digit number to the police station, a different 5- to 7-digit number for the fire station and yet a third 5-to 7-digit number for a medic.
Another option was to dial 0 for the operator to connect you but, as you can imagine, you lost precious time going through a third party in order to be connected to first responders.
By the late 1950s there had been enough volume of calls and loss of critical time during emergencies that demands for a universal emergency number started to surface. This number had to be easy to remember and access all responders – police, fire and medical.
The United Kingdom had been using 999 since the 1930s as its emergency number and some standalone systems in the United States used a variation of three-digit numbers. Prior to 1968, there was no standard universal emergency number.
I have read many accounts as to why the numbers 9, 1, 1 were chosen, considering all calls made during this time period occurred on rotary dial phones.  For the purposes of dialing the quickest numbers on a rotary dial, it would make sense to dial 1-1-1, however, the number 1 was already used to make international calls and 0 was always for the operator. One of the main reasons was that those three consecutive numbers (9-1-1) were not in use within the U.S. phone systems as a prefix or area code.
On February 16, 1968, the first call was made in Haleyville, Alabama, after the introduction of the nation's first 9-1-1 system, which was located at a police station.
Alabama Speaker of the House Rankin Fite made the first call from another city hall room and it was answered by Congressman Tom Bevill on the red telephone located in the police department. Also present was Haleyville Mayor James Whitt.
Today's mayor, the Honorable Ken Sunseri, is married to Kay Whitt Sunseri, the daughter of the late Mayor James Whitt. This week I accompanied Mayor Sunseri and his wife, Kay, on a tour of the United States Capitol along with Congressman Robert Aderholt (R) from Alabama's 4th Congressional District. The Congressman acknowledged not only the monumental anniversary, but all of the accomplishments of the 911 profession, and the hard work yet to be done.
Where are we today with 911?
The technologies our communities use today to communicate have changed drastically since 1968 and our nation's legacy 9-1-1 system needs a major overhaul in order to keep up with the public's expectations.
In my 26 years as a law enforcement officer, I was often astonished by how little the public knew about the nation's 9-1-1 system. Thanks to TV shows like "24" and "NCIS," people think 9-1-1 centers know all things about all people all the time when they dial 9-1-1.  Nothing could be further from the truth!
Emergency call takers today often only know the number a person is calling from and a general sense of their location. Emergency communications centers report that 75 to 90 percent of their call volume now arrives in the center via phones using a commercial wireless network. These calls typically only provide the call taker with the number calling and the caller's approximate location based on the cellular tower transporting the call.  Location accuracy for wireless callers continues to be the highest concern for personnel who work in these centers.
In February 2014, the Federal Communications Commission (FCC) proposed new rules for improving location accuracy for wireless 9-1-1 calls. Working with the Cellular Telecommunications Industry Association, major public safety associations and the nation's four largest wireless providers are working with the FCC on a roadmap that sets the best path for improving wireless 9-1-1 location accuracy, including indoors (Z-axis) commonly referred to as the "dispatchable location," i.e., the door to kick down by first responders.
I represent the International Association of Chiefs of Police (IACP) on this effort and on February 14 presented on a panel to Congresswoman Norma J. Torres, United States Representative for California's 35th Congressional District and staff from Congresswoman Anna G. Eshoo's Office, U.S. Representative for California's 18th Congressional District. Some of the themes that came out of this briefing included:
Current 9-1-1 systems across America are based on 1970s technology.
The system supports mostly voice and very limited data.
The national 911 infrastructure is well beyond end of life and does not meet the needs of current technology, or more importantly, what the public expects from its emergency communications centers
Most of the 6,000+ public safety answering points (PSAPs) or emergency communications centers are under law enforcement administration and in desperate need of consolidation to make best use of funds, technology and personnel. Some cities and counties have multiple PSAPs in one municipality, often transferring calls between one another, losing precious seconds and information during the call transfer. Creating more shared resources on the call intake and sharing technology and staff, which is arguably the real big money saver especially by sharing technology and resources to maximize the local knowledge value of that function.
What about Next Generation 911?
Depending on whom you ask, you will get different answers on what Next Generation 9-1-1 (NG911) really means.
If a PSAP has switched to an internet protocol (IP)-based emergency telephony system, they may say they are NG911-compliant even though they may not be accepting any text, photos or video to 911.
The generic definition for NG911 is that it will enhance emergency number services by creating a faster, more resilient system that allows digital information (e.g., voice, photos, videos and text messages) to flow seamlessly from the public, through the 9-1-1 network and eventually, directly to first responders.
Others would argue that this definition needs to include the transfer of all this digital data from one PSAP to another, because in densely populated areas, such as the National Capital Region, emergency calls are often routed to the wrong PSAP based on the location of the cellular tower, not necessarily the location of the emergency.  
We need to define "NG 9-1-1" in a common and comprehensive way – meaning connectivity plus the equipment and services needed by PSAPs to process, analyze and store incoming data.
You have full NG 9-1-1 only when a citizen can send a multimedia message to a PSAP, who in turn can receive and process it, and send along to responders in the field (such as via FirstNet) or seamlessly transfer or exchange this data with other PSAPs.
This is where standards will play a huge role to ensure all PSAPs adopt a single set of standards that all equipment manufactures will follow to ensure, not only a smooth transition of digital data from the public to the PSAP, but also between PSAPs. The current leading standard being followed for NG911 is the NENA i3 standard.
When NG911 arrives it will mean faster call delivery and in multiple formats – voice, text, photos and videos. Currently only voice is available to 9-1-1 centers across the country and very small pockets are receiving text to 911.  It will mean increased routing accuracy and redundancy when working in tandem with other PSAPs, as well as improved performance for call overflow and backup when traditional voice lines are tied up.
For example, in 2017, California received a total of 28,129,927 9-1-1 calls for service.  Of those 28,129,927 calls, 80% were from wireless devices, 15% were from traditional landline devices, 4% were from Voice over IP (VOIP) systems and 1% was from other telematics, such as OnStar. In 2017, CA processed ~ 18,200 text messages across 441 PSAPs. Those are some sobering statistics.
Location identification is the goal
NG 9-1-1 will mean an updated geographic information system (GIS) desperately needed in the PSAP.
It's shameful that my Uber or Lyft driver knows exactly where I'm at when I call for a ride and what I look like, and I know what they and their vehicle looks like and can see their car moving in real time on a map on my phone, yet a 9-1-1 operator dealing with a life-threatening emergency doesn't have any of these capabilities.
Every minute spent searching for the exact location of an emergency can affect the eventual outcome of the response. Unfortunately, 9-1-1 telecommunicators spend critical time determining the exact location of the caller before they can dispatch aid.
The world is increasingly replacing traditional landline telephones with wireless phones, with most wireless calls now being made from indoors and most of those calls to 911 are from phones using a commercial wireless carrier. Our ultimate objective with NG 9-1-1 should be to maximize the exact location of all callers in an emergency who are using wireless phones, whether calling from urban or rural areas, from indoors or outdoors, and with technology that can provide accurate location information. Finally, NG911 will mean using more cloud-based and hosted solutions for many NG 9-1-1 elements.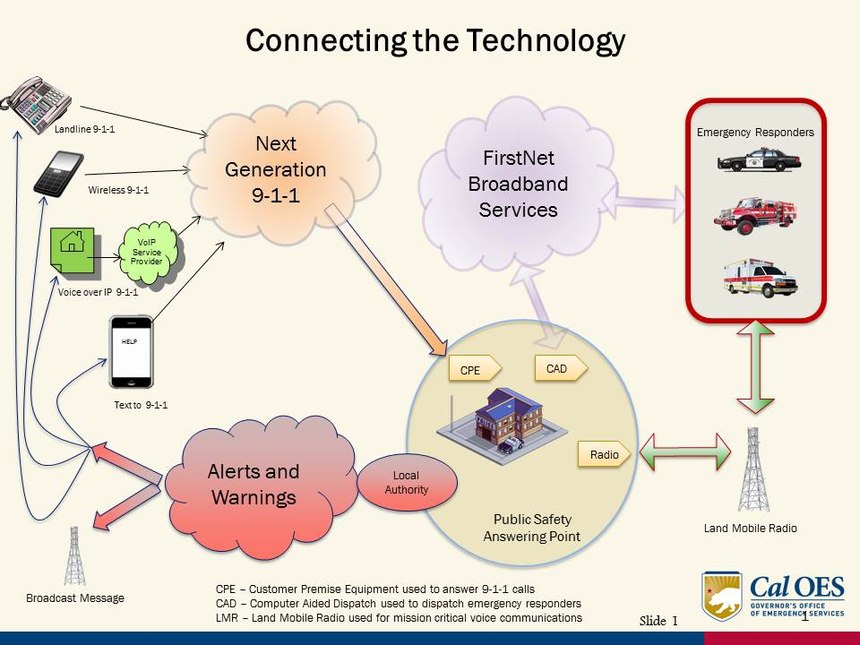 In closing
There have been many improvements since the town crier announced emergencies and cops went to a call box to receive information, but there is still much to do.
Thanks to evolving technology and innovation, we have to build our emergency call services to be just as resilient and responsive as the devices being used to transmit the important information that generates our response.
It will take the same level of funding granted by Congress to our nation's first responders to achieve a national public safety broadband network through FirstNet to achieve the same level of readiness for NG 9-1-1. The highest priority for any funding allocation has to be 9-1-1 location accuracy so that we can dispatch our first responders with the highest level of accuracy. And we have to agree and lock down essential standards in NG 9-1-1 so that vendors will manufacture interoperable equipment and our personnel can receive consistent training. 

Request product info from top Police Communications companies
Thank You!