PRESS RELEASE
RedXDefense Slashes Price of XCAT Narcotics Sampling Cards- Improves GSR Performance
---
ROCKVILLE, MD – February 2014 RedXDefense, a leader in the field of narcotics, explosives and gunshot residue detection equipment, announced today a 37% reduction in the cost of the narcotics sampling cards for the XCAT handheld detection system.  In addition, the Company has released a new gunshot residue sampling card with an adhesive strip to further improve sample collection.  These improvements and cost reductions continue to position the XCAT as the future of field testing and as a viable and attractive replacement to the Field Test Kits.  Law Enforcement Agencies in 26 states and 9 countries are now successfully using the XCAT.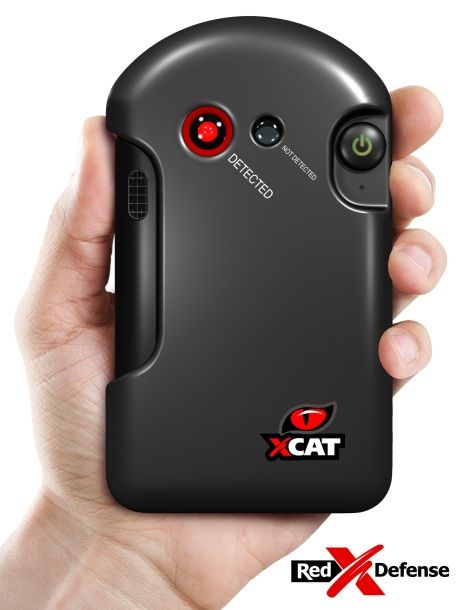 Tested and approved, the XCAT appears on the Commonwealth of Virginia Department of Forensic Science's list of Approved Presumptive Field Tests for the Detection of Drugs and has been verified by the National Forensic Science Technology Center (NFSTC) to accurately detect the presence of commonly encountered illicit drugs.

Key attributes contributing to the XCATs popularity: 
Narcotics, Explosives and GSR detection in a single platform.
Rapid red light/green light response.
No glass ampoules, no color charts, no spraying, no chemical exposure 
Trace detection.
Rugged and simple to use.
No calibration
Less than 1 pound
Rechargeable Li-ion battery with 7 hour battery life.
Verification standards provided.
Field upgradeable for new threats.
Affordable for every security agency.
The XCAT uses detection cards with specially formulated detection inks and software to identify characteristics unique to each individual or group of chemically-related substances and returns a simple red or green light signal to the user.  No libraries to match or update.

Uses:
Sample trace or bulk narcotics.
Test a suspect's hands for the presence of gunshot residue - immediate results guide the investigation and encourage confessions.
Clear unattended bags for explosives in airports, universities, buildings
Test mail or packages at incoming inspection. 
Vehicle inspection at entry points.
Testimonials:
"We are a very small agency in Indiana. We use our XCAT primarily to detect METH. We have nothing but good things to say about the system. With the red light/green light function, the XCAT is a step up in field testing. Our prosecutor also likes the system." Berne Police Department - Berne, IN

"I highly recommend these units to investigative teams who are in search of a presumptive testing system that is very user friendly, durable and most importantly accurate!" Iberia Parish Sheriff's Office

"I would recommend all airports get an XCAT. It is an effective, yet inexpensive tool for you to use to clear unattended bags without having to ask TSA."
Richmond Co. Marshal's Office, Airport Division
About RedXDefense
Founded in 2005 with Corporate Headquarters in Rockville, Maryland, RedXDefense is a privately-held small business focused on novel approaches to detection that address the unique needs of the law enforcement, military,  businesses, and homeland security.