PRESS RELEASE
The Metropolitan Police Department Celebrates Pride with Washington, DC Community
---
(Washington, DC) – The Metropolitan Police Department's (MPD) Special Liaison Branch – LGBT Liaison Unit joined the Washington, DC community this past weekend to show their support for Pride Month during the Capital Pride Parade and Festival. Following a two-year hiatus due to the COVID-19 pandemic, crowds flooded the streets of the city to celebrate the LGBTQ+ community; and the DC Police were ready to protect and serve, and support the coming together of the diverse neighborhoods of the district.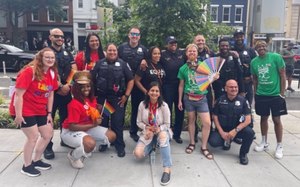 The Capital Pride Parade and Festival honor the history and acknowledges the evolution of the LGBTQ+ neighborhoods in Washington, DC. Since its inception, MPD has been present at every parade to ensure the safety and well-being of all who participate in the festivities. While safety is the department's number one priority, officers also connect with residents of Washington, DC, and conduct essential outreach to assist in strengthening community partnerships and connections.
MPD's Special Liaison Branch (SLB) is a model for community policing in its work with historically underserved communities. The SLB works closely with the vibrant communities of the District of Columbia, in particular its African, Asian, Deaf and Hard of Hearing, interfaith, LGBTQ+, and Latino communities. In 2000, the Gay and Lesbian Liaison Unit (now the LGBT Liaison Unit) was established to bring together a team of dedicated officers who focus their public safety efforts on the needs of the gay, lesbian, bisexual, transgender, and their allied communities. They conduct public education campaigns on issues related to hate crimes and safety, and their primary focus is to gain the trust of the community and seek out information that leads to the closure of hate crime and violent crime within the LGBTQ+ community. 
Catch a glimpse of MPD's highlights at Capital Pride here.
For more information about the Metropolitan Police Department's Special Liaison Branch, visit: https://mpdc.dc.gov/sld
For more information about how to join the Metropolitan Police Department, visit: https://joinmpd.dc.gov/

Request more info from DC Metropolitan Police Department
Thank You!