PRESS RELEASE
Dr. Erik Fritsvold to speak about the nationally ranked M.S. in Law Enforcement Leadership in online webinar Oct. 26
---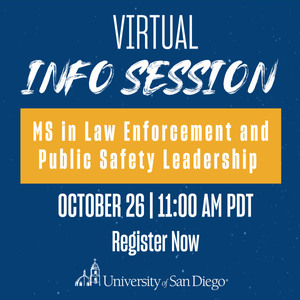 SAN DIEGO, Calif., — The nationally ranked M.S. in Law Enforcement & Public Safety Leadership program (MS-LEPSL) at University of San Diego is hosting a free online information session on Tuesday, October 26 at 11 am PDT. The session is ideal for any law enforcement professional who looking for ways to refine their leadership skills, prepare for promotion, and/or lead change in their department and community.
Erik Fritsvold, Ph.D., founding faculty member and academic director of the MS-LEPSL program will be the featured speaker for the event. He'll be joined by current student and Los Angeles Police Department Det. Sgt. Marco Evans.
Topics that will be discussed include:
What makes the MS-LEPSL program different from traditional criminal justice master's degree programs
An overview of the skills-based curriculum as well as the faculty
Options for receiving academic transfer credit for certain law enforcement leadership trainings such as FBI National Academy
A student's perspective on the coursework, networking, time commitment and other areas of interest to prospective students
Event Details
What: M.S. in Law Enforcement & Public Safety Leadership Online Information Session
When: Tuesday, October 26, 11 am PDT
Where: Online
Registration: https://t.ly/8Pr4
About the University of San Diego M.S. in Law Enforcement & Public Safety Leadership Program         
Nationally ranked by US News & World Report as one of the best online criminal justice master's degrees in the country, USD's M.S. in Law Enforcement and Public Safety Leadership degree program was developed to serve law enforcement professionals by providing them with tools and knowledge that are force multipliers for their career trajectory and agency's success. The program's curriculum teaches and develops competencies that are required of many law enforcement leaders but often not taught, such as budgeting, succession planning and communication. Additional emphasis is placed on exploring solutions to the most pressing policing challenges of the day, such as recruitment and retention, heightened scrutiny around UOF, homelessness, mental health, and meaningful community engagement in the current climate.   More information is available online at https//criminaljustice.sandiego.edu or by calling (619) 260-4580.

Request more info from University of San Diego
Thank You!