PRESS RELEASE
University of San Diego Master's in Law Enforcement and Public Safety Leadership graduates first class
---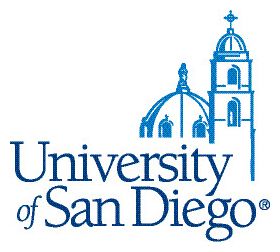 On May 27, 2017 more than 100 law enforcement officers from local, state and federal agencies became the first class to earn a Master of Science in Law Enforcement Leadership from University of San Diego (USD).
Launched in 2015, the unique degree program was designed with input from law enforcement associations and experienced practitioners, with the purpose of preparing the next generation of criminal justice leaders. Unlike traditional criminal justice programs, USD's program emphasizes leadership development, ethics, tangible skill building and the immediate application of these skills to solving some of today's most urgent law enforcement challenges.
"I really like that all the content is current," said Ryan Flick, Lt. Watch Commander and student of the MS-LEPSL program. "For example, we are diving into the hot issues, like body cameras and drones. There is a huge focus on relevant and timely issues that are affecting law enforcement today, and that really differentiates this program from many other criminal justice programs. I also like that the class is mostly composed of high-ranking law enforcement officials. Their feedback in the course is just exceptional. The stuff that you can get from their experience is tremendous – you don't get that in normal classes."
The purpose of the program is to not only support rapid career advancement, but also to prepare the next generation of leaders who have the expertise to not only successfully police, but also to work with their communities in being successful law enforcement professionals.
"Rather than just focusing on traditional criminal justice curriculum, this degree responds to the expressed need for leadership development and provides immediately applicable that will produce the next generation of leaders in law enforcement," says Erik Fritsvold, Ph.D., the program's academic coordinator, and an associate professor in USD's Department of Sociology. "Our course on community engagement focuses on controversial use-of-force events, best practices and strategies," Fritsvold continues. "We are excited to see the impact that our first graduating class of the Master of Science in Law Enforcement and Public Safety Leadership has on their communities."
The faculty for the MS-LEPSL program is comprised of highly experienced instructor practitioners, who hold advanced degrees and possess extensive experience in law enforcement. The diversity of experience the instructors possess is striking as they hold positions such as Retired Chief of Police, Deputy District Attorney, and Public Defender.
More than 200 law enforcement professionals from agencies such as NASA, US Army, US Navy, Department of Justice, California Highway Patrol, Superior Court of California and students from all over the country including Boulder, Fort Worth, Las Vegas, Phoenix, Seattle, Cape Coral and of course San Diego, to name a few, have studied and/or are studying in the 20 month-long Master's program.
The online degree is a 31-unit program designed to be completed in 5 semesters (20 months). Coursework is taken year-round, with three 14-week semesters each year allowing students to focus on one course at a time. With courses in study management, administration, leadership, budgeting, conflict resolution, change management, community relations, and data-driven analysis and decision-making, the program not only contributes to career development, but also provides applicable and useful skills necessary to be more effective in day-to-day policing. The fully online format accommodates busy schedules and is geared toward law enforcement and public safety professionals focused on fast tracking their careers.
"Education has a critically important role to play in bridging the gap between law enforcement and the communities they serve," says Fritsvold. "Education has been demonstrated to nurture more culturally aware officers, who are better positioned to succeed in the increasingly multicultural communities of the U.S."
New classes start three times a year – in January, April and September. To apply or learn more about the program and see if you qualify, please visit criminaljustice.sandiego.edu.

Request more info from University of San Diego
Thank You!