The COVRT series bags from 5.11 Tactical fulfill unique needs
All of the COVRT model line has a place to put a gun, which is a great reason to own this kind of pack
---
If you're like me, sometime during your career you've worn something in your career — either on duty or off duty — from 5.11 Tactical. Funny thing is, I've lived within 15 minutes of their headquarters all these years and I've never seen the front of the building. This past year, I got a tour.
5.11 Tactical makes products for first responders, from duty wear to accessories. When I visited, I expected to see a lot of great new clothing (I did), some accessories (ditto) and tactical gear (yup, that too). The part I didn't know tied all of these products together. 5.11 Tactical has a serious custom shop, capable of adding department logos, embroidered badges and screen prints on almost anything they sell. Since I tested their new COVRT 18 backpack, the idea of customizing a product really hit home.
You may recall a Police1 Product Review of the COVRT M4 Rifle bag by Andrew Butts. The COVRT line has addressed a need in law enforcement, and I believe Andrew covered it well. We need products that allow us to discreetly transport our firearms and equipment.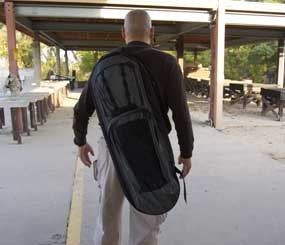 I don't think the COVRT line is limited to transportation of firearms. These packs allow officers to operate with their equipment.
I think the best application for the COVRT 18 is in response to the increase of protests we have seen nationwide.
When a Law Enforcement Agency needs to read a legal riot dispersal order to a crowd, the most legally defensible employment is to have a witness on the periphery that can testify they heard the order. What better way to do it than have a well equipped officer in civilian clothes?
This is how I picture it: An officer is placed on the other side of the crowd, COVRT 18 on back and trademark white earphone in ear, with an open line to Dispatch. The dispersal order is read through a loudspeaker and the order and response is recorded through the open line to dispatch. The officer has all of his duty gear, and possibly other recording devices, with him. He can even GPS tag his location and make a video of his surroundings. At an appropriate time, the officer can exit unnoticed.
This legally-defensible and routinely-employed tactic is one of the reasons why the media inflates the "police had agents spying on us" mentality.
They aren't spying. They are documenting the incident, just in case a major network decides to doctor the coverage.
Aw, come on, they don't do that, do they?
The COVRT 18 backpack is a daypack sized pack made of mostly 500d/420d water resistant nylon, an abrasion resistant material that has a good ratio of strength and weight. The part that touches the back is mesh, which does a great job of channeling sweat away from the body. It has yoke-style shoulder straps and an adjustable sternum strap. I found it comfortable for moderate hiking, having taken one upon several day trips into the Sierras. This goes beyond its intended use as a tactical pack, but I can speak well of its ability to protect my Nikon in a drizzle and its stability and padding when load shifting is critical.
The COVRT 18 has a laptop sleeve and organizer pockets. This sleeve area, by the way, fit one of my ballistic panels, which is a plus. 5.11 Tactical can sew, embroider or screen just about anything. The COVRT 18 has a flip down ID panel, which is a good place for agency ID.
The COVRT Select Carry Sling Pack, designed for submachine gun carry, has a front panel, waist-pack style, which opens up when swung into action. This also allows for custom panels that say "POLICE" or "SHERIFF" which 5.11 Tactical will gladly sew for you. All of the COVRT model line has a place to put a gun, which is a great reason to own this kind of pack.
In case you were thinking that a pack is a slow way to deploy a gun, you should know that I generally don't like packs, I like strong side carry.
However, the strap for the Select Carry Sling Pack integrates with the Select Carry Pistol Pouch, allowing the officer to cross draw a full-sized handgun, like my trusty Glock 22, quicker than a "fanny pack" draw. After 5.11 Tactical's Dave Rhoden walked me through it, I found I had a gun in my hand almost as quickly as a holster. Flip it around and one has access to MP5 sized sub gun. It's a simple, trainable draw stroke.
The Select Carry Pistol Pouch is a gun waist-pack when it's not mounted on the Select Carry Sling Pack. Here's an interesting thing I figured out: With it, I can carry a full-sized gun on a 5K, without "bounce." Since I like running trails, my FNP9 is pretty good company.
The COVRT ZAP 6 (Zone Assault Pack)is iPad-sized (and padded). It is the handiest, but it takes a little more practice for the draw. I liked the water bottle holders on this model and the COVRT 18. For discreet carry, it's the way to go.
I enjoyed my tour of the 5.11 Tactical headquarters. Every time I pick up one of their products, I get ideas.
My latest idea is to use their Custom Shop.