4 companies lighting the way at SHOT Show 2018
New products from NexTorch, QuiqLite, Streamlight and SureFire make for a bright future
---
Cops need to be prepared to light up the darkness to locate and neutralize a threat. Whether pocket, belt carry, or weapon light, there are many reputable manufacturers out there pushing the envelope. This article covers some new products featured at SHOT Show 2018.
NexTorch
During my first year at SHOT, I wrote about the NexTorch TA-10. Like the TA-10, the reimagined TA-15 has springs at both the reflector and tail ends of the light, which helps with shock absorption and also allows it to use a single rechargeable or non-rechargeable CR123, 14500, 16340, AA, or in a real pinch, even a AAA battery – basically any battery from 1.5-4.2 volts that will fit.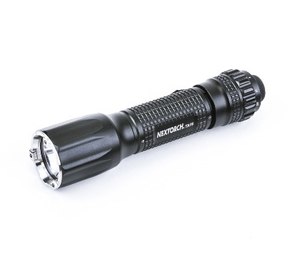 Using a rechargeable 14500 or 16340 enables up to 600 lumens from the CREE XP-L V6 LED, while a CR123A tops out at 300 lumens. The 130 lumens you get from an AAA seem pretty weak, but it's better than a shot in the dark if that is the only battery you have available.
The 6061-T6 anodized aluminum TA15 features a rotational magnetic switch that steps through three output levels and a strobe. Like most tactical flashlights, the light also has a dual-function tail cap switch, but this one overrides the magnetic switch and gives you momentary full power output or a strobe by halfway or fully depressing it.
Finally, the smooth, yet super-hard, nano-ceramic strike bezel works to break through glass in a pinch and lets you stand it up on a flat surface as a marker light.
The light comes packaged with a stainless pocket clip, lanyard and a spare O-ring.
This light won the Asia Outdoor Industry 2017 Silver Award and is priced at $65 from Amazon. For wholesale or agency buys, contact Blue Ridge knives at 276-783-6143 or onestop@blueridgeknives.com.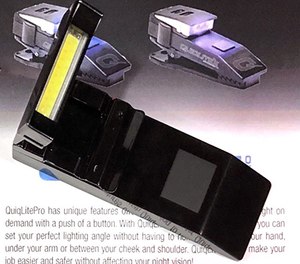 QuiqLite
The QuiqLite X2 rechargeable is the next generation in a long line of EDC "pocket-mount" lights designed for military, law enforcement and, yes, even flight attendants.
New this year, the X2 features a row of 30 micro LEDs, half red and half white. The white LEDs are switchable in three steps from 20-250 lumens plus a strobe.
The X2 is water-resistant (IPX-4 standard) and the auto-off timer is programmable. It comes with a plastic "flare" that can be attached to the light for traffic control.
Shipping in April, it retails for $74.95. Agency discounts are available by calling QuiqLite directly. Like all the company's products, the X2 has a lifetime warranty.
StreamLight
As lumens go up, battery life goes down, and battery costs go up along with possibly toxic waste. Streamlight believes it has the solution to this problem with its new 18650 USB-rechargeable battery. There is a micro-USB connector on the side and advanced charging circuitry with thermal and electrical protection inside.
A single 18650 can drive an additional 1,000 lumens from their single-LED ProTac HL 5-X for a total of 3,500 lumens, compared to 2,500 lumens using a pair of CR123.
Since different people want different functionality from their light, the ProTac HL 5-X features StreamLight's TEN-TAP programming that allows selection of three different operating programs.
Pricing for a 18650 two-pack and a USB charging cable is $40. The ProTac HL 5-X with four CR123A lithium batteries and wrist lanyard is $145. Swap in a pair of 18650s and you only pay another $30.
If you're looking for an EDC light, Streamlight's $60 1L-AAA can give you up to 350 lumens on a CR123, and can use a AA battery in a pinch. Seriously, when will my local drugstores start carrying CR123s?
Finally, StreamLight somehow shrank its ubiquitous TLR-1 (light) and TLR-2 (light + laser) gun lights and came up with the TLR-7 and TLR-8. When you need to swap out the single CR123, you no longer need to take the light off your weapon and pry up that little tab on the back to open the battery door. With the new lights you unscrew the bezel, pop in a new battery, and you're back in business. Both lights put out 500 lumens, have a redesigned low-profile ambidextrous tap switch, and sell for $215 and $350 respectively.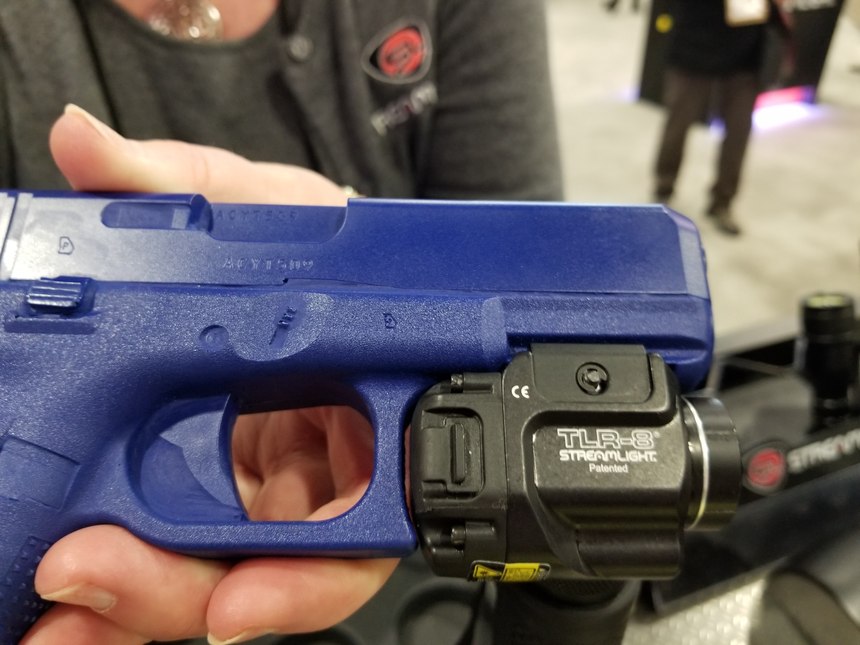 Surefire
In case you hadn't noticed, the civilian concealed carry market has exploded. See Lindsey Bertomen's article on the renewed efforts to make pocket-sized guns better here.
To serve this market, SureFire introduced the micro-sized XC-1 (light) and XC-2 (light + laser). Both lights have an ambi tap on-tap off switch that can be triggered while your finger is on the, er, trigger. This gives you the flexibility to keep your other hand free or keep holding your dog's leash.
In fact, this switch was designed at the request of K-9 officers who needed to maintain control of their partner and their weapon at the same time without jeopardizing safety.
Both put out up to 300 lumens using SureFire's proprietary Maxvision technology.
Runtimes from the single AAA battery at maximum output are 45 minutes for the $299 XC-1 and 30 minutes for the $449 XC-2. Both are shipping now.
As I was leaving the booth, a Stiletto EDC pocket light magically appeared from a pocket. About the same size and shape as an EDC foldable knife, the $109 rechargeable Stiletto has separate on/off and function switches near the reflector, as well as a tactical switch on the tail. Multiple outputs as well as a strobe can be selected. The unit is due to ship in February.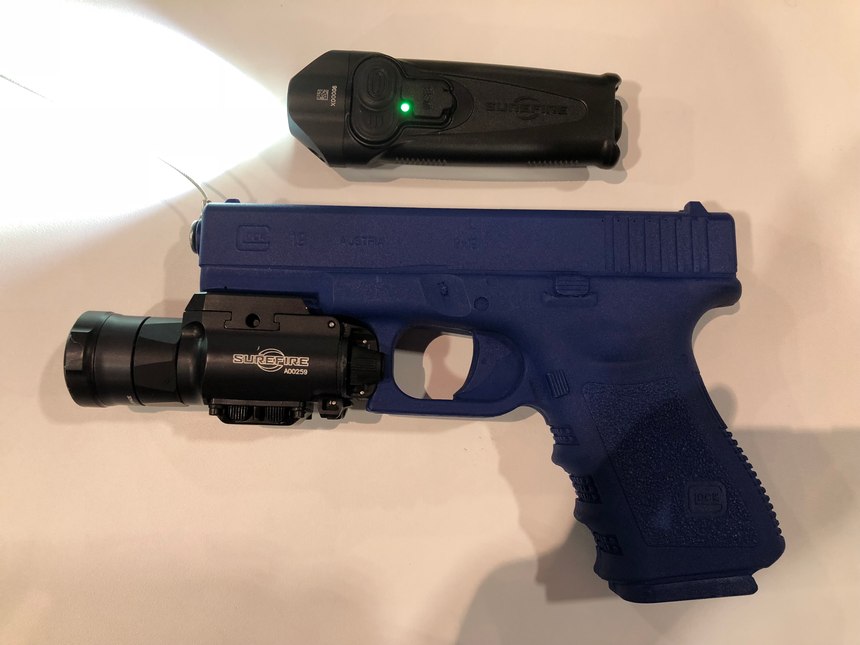 Request product info from top Police Flashlights companies
Thank You!