SHOT Show 2011: MOLLE-mountable LEDs and Z-folded QuikClot bandages
---
I'm happy to say that it was an extremely busy morning. There was so much traffic at the show that we were reduced to a slow crawl to get by some of the booths. It's my job to scour the exhibit to find new and innovative products that will benefit the law enforcement field, so here are just two of the things I found today. Now, they're not exactly what you would automatically assume would be "lumped together" in a single article, but this is congruent with my personality, which includes my short attention span. Here goes...
Start Shedding Light
Princeton Tec unveiled two new MPLS (Modular Personal Lighting System) task lights for the tactical officer. Both of them use an LED at the end of a flexible stalk. They are helmet- and MOLLE-mountable, highly water resistant, and weigh practically nothing (17 grams). They have a variety of mounting options, including Picatinny rails and other areas one would place a task light designed for hard use.
The POINT MPLS is the original product with a single LED. The Switch MPLS has two separate LEDs on its flexible stalk. There are several color combinations available, including IR. These lights use a single 2016 cell and the 10 lumens lights will go approximately 36 hours.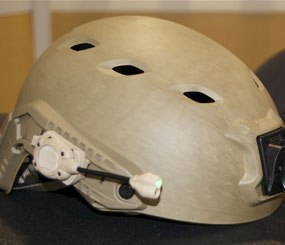 Stop Shedding Blood
I met with Robert Huebner from Z-Medica and Brad Gilpin from Combat Medical Systems. They demonstrated the QuikClot trauma kits, which have generated a lot of interest in law enforcement. It is likely because they have been in use in the military for several years and used successfully hundreds of times. QuickClot is a hemostatic product, which means it will slow and eventually stop the flow of blood in an injury. QuikClot has integrated the hemostatic properties into a Z-folded bandage which is vacuum packed. At this time, all branches of the military have adopted this product and many branches of the federal government's law enforcement agencies have followed suit.
Brad told me that the intent of getting this product into the hands of law enforcement at the user level is NOT an attempt to turn officers into "mini-medics." However, when it comes to patient survival, time is the most important factor. If the patient is a downed officer, faster response will increase the efficiency of the deployment and a saved life. Z0Medica is marketing a belt trauma kit (BTK) which is borne by the individual officer.
It contains QuikClot combat gauze or a QuikClot first response dressing, a CPR shield and other products that will protect the officer. Considering the fact that this product is the same size as the pouch in which I carried my disposable gloves, I am definitely an advocate of getting these products on the street.
Request product info from top Police Flashlights companies
Thank You!