PRESS RELEASE
Streamlight introduces SpeedLocker portable locking storage container
---
Securely stores valuables; patented mechanical keypad provides quick access
EAGLEVILLE, Pa. — Streamlight, Inc., a leading provider of high-performance lighting, launched the new SpeedLocker, a portable storage container with a secure, non-electronic keypad locking system that provides fast, one-handed direct access to valuable items at home or on the go without the need for batteries or a power source.
Measuring 12.4 inches long, 8.2 inches wide and 2.78 inches high, the lightweight container is designed to carry a variety of items that require safe, secure storage, including various compact firearm models. The container's foam insert helps to protect and secure stored items.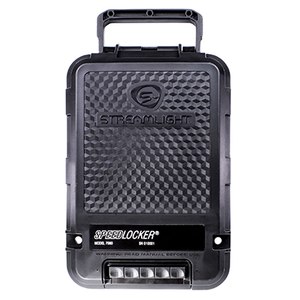 "Streamlight developed this portable storage container to help ensure that customers' personal items are protected and out of reach from unauthorized persons, while still providing fast, one-handed access," said Michael F. Dineen, Streamlight's Chief Revenue Officer. "It securely stores personal items, such as a wallet, car keys, travel documents, or compact pistols."
The SpeedLocker's patented mechanical keypad provides for 31 lock combinations, and comes with an Allen key to change the combination.The container is air-travel suitable when used with the supplied padlock. It also comes with a front name plate that can be personalized for ownership identification.
The SpeedLocker's rugged hard shell is made of high-impact polymer and features a convenient folding carry handle. Its internal dimensions are 8.0 inches long by 7.1 inches wide, allowing for the storage of various compact firearms and other items. It weighs 2.6 pounds without contents, is water resistant, and comes with mounting holes to secure the box to rigid surfaces such as lockers, toolboxes or a vehicle center console.
The SpeedLocker comes with an Allen key and an accessory padlock with keys. It also includes Streamlight's Lifetime Warranty. The MSRP is $165.00.    
About Streamlight
Based in Eagleville, PA, Streamlight, Inc. is marking 50 years of manufacturing high-quality, durable flashlights designed to serve the specialized needs of professionals and consumers alike. Since 1973, the company has designed, manufactured and marketed high-performance flashlights, and today offers a broad array of lights, lanterns, weapon light/laser sighting devices, and scene lighting solutions for professional law enforcement, military, firefighting, industrial, automotive, and outdoor applications. Streamlight is an ISO 9001:2015 certified company. For additional information, please call 800-523-7488, visit streamlight.com or connect with us on facebook.com/streamlight; twitter.com/Streamlight; instagram.com/streamlightinc; linkedin.com/company/streamlight-inc./; and youtube.com/streamlighttv.     

Request more info from Streamlight
Thank You!