Elite New 5.11® Knife Collection Features Designs from Award-Winner Mike Vellekamp
---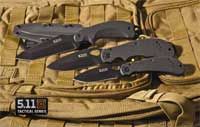 5.11 Tactical's five new must-have knives are comfortable, durable and well balanced. Each was engineered by renowned knife designer Mike Vellekamp of Blade-Tech and Fox Knives USA®. Vellekamp, winner of Blade magazine's prestigious "Most Innovative American Design of the Year" award for 2009, has more than 16 years of knife expertise. "When you're an officer and seconds count, you need a knife that is hardened and shaped to cut efficiently," he says. "Every knife in 5.11's new collection offers superior ergonomic design and functionalty – and is made with premium materials for tactical and other applications."
5.11® CEO Dan Costa adds, "We're very pleased to collaborate with Mike Vellekamp and Blade-Tech on our newest knife line. Edged tools with this kind of quality and value are rare in today's marketplace." All five knives include non-reflective blades with a subdued, black oxide finish that resists corrosion.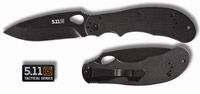 5.11's new Alpha Scout Folder features easy-to-maintain AUS8 blade steel, a 3" flat-ground blade, 4mm blade thickness, comfortably-shaped .08" G10 scales, open liner lock construction for easy cleaning and 4-way ambidextrous clip options for greater convenience. Found on the Alpha Scout and Scout Folder, the Blade-Tech V-hole shape was intentionally designed for operators to grip your thumb during the opening motion.
These two knives and handles were specifically designed to be smaller and more compact, rather than taking larger models and simply scaling them down. For only $34.99, the new Alpha Scout Folder is your perfect everyday carry – a fresh tactical take on a conventional pocketknife.
Made with AUS8 blade steel and a 3.5" flat-ground, 4mm thick blade for longer edge life, 5.11's Scout Folder offers four-position clip carry, .08" G10 scales and a liner lock for easy one-hand operation. The Scout Folder fits easily in your hand or pocket, has smooth opening and closing action, and features an ergonomic design to prevent muscle fatigue during extended use. The new Scout Folder is competitively priced at $44.99.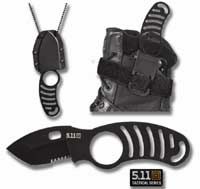 The innovative Side Kick™ Boot Knife from 5.11® has a skeletonized handle and fits in the hidden boot pocket of 5.11® ATAC®, XPRT™ or Company Boots. It comes with an injection-molded sheath and removable/reversible boot clip. Wear it on a boot, duty-belt or web platform, or around your neck using the included break-away bead chain. It also works with a Blade-Tech Tek-Lok in the horizontal carry position or Blade-Tech's small Molle-Lok™. The Side Kick's 3.5" fixed blade is made of AUS8 steel. This practical, lightweight back-up tool cuts fabric, line, nylon webbing, cardboard and sandwiches, and offers ambidextrous up/down/left/right options. Use the included Allen wrench to adjust the carry height of the knife, and turn oxygen tanks on and off with the handy 02 wrench in the blade. An exceptional value at only $44.99, you'll wonder how you ever lived without it.
5.11's fixed blade Tanto Surge includes an ambitextrous web platform-compatible sheath with a Molle-Lok™ attachment system and is compatible with other Blade-Tech accessories like the Tek-Lok & Blade-Tech Klip. Its generous 4.25" blade features AUS8 blade steel, flat ground, with a 4mm blade thickness and comfortably-shaped, non-slip peel-ply textured .08" G10 contoured scales. The blade, which fits comfortably in the hand in either a traditional or reverse grip, features a protruding blade tang for use as an impact tool. Added jimping on the thumb, forefinger and palm swell increase traction in slippery or wet conditions. Priced at $74.99, the Tanto Surge is an ideal choice for multiple applications.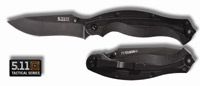 Constructed with high-end components including premium S30V blade steel by Crucible Metals, 5.11's XPRT™ Folder features superior balance and toughness. Its 3" blade with a 4mm flat-ground blade thickness includes ergonomically-shaped G10 scales and liner lock construction. The XPRT's protruding trident-shaped pommel is effective for pressure-point manipulation and other less-lethal tactics. The XPRT offers a generous grip size and at $149.99, combines unmatched value with master craftsmanship.
No matter which you choose, all 5.11® knives offer exceptional performance and value. Check www.511tactical.com for locations, then stop by your local 5.11 Dealer today to find the right knives, best eye protection and highest quality tactical apparel in the industry.
About 5.11 Tactical Series®
Located in Modesto, California, 5.11 Tactical Series creates innovative, user-required products that enhance the safety, speed and performance of law enforcement, military and fire/EMS professionals. Built on a foundation of durability, quality and value, 5.11 Tactical's team of more than 200 employees leads the industry in delivering functionally innovative gear, head to toe. The company was ranked #211 on the 2007 Inc. 500 list. Learn more about 5.11's best-selling tactical clothing, station wear, uniforms, outerwear, footwear and accessories at www.511tactical.com.