PRESS RELEASE
Zero Tolerance 2019 catalog is now available
---
See what's new for 2019 now. 
TUALATIN, Ore. — As we enter the new year, a new selection of Zero Tolerance Knives is available or coming soon.
ZT is happy to present its 2019 catalog. This handy resource unveils ZT's newest knife models as well as covering the entire ZT lineup. You'll be able to conveniently reference specs, prices and other information for each model.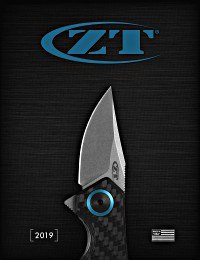 The 2019 Zero Tolerance Knives catalog is available on print and digital formats. To request a physical copy, please make a request on our website's contact form. Alternatively, you can download the PDF version on the catalog page. 
About Zero Tolerance Knives
Zero Tolerance is a brand of Kai USA Ltd. The ZT brand first made its appearance in 2006 when we saw a place in the market for a Made-in-the-USA line of hard-use knives that would meet the needs of professionals in the military and law enforcement, as well as other first responders, such as firefighters and emergency medical personnel.
Zero Tolerance Knives are manufactured of premium materials such as S30V, S35VN, or CTS-204P blade steel and G-10, titanium, and carbon-fiber handle scales. Operation is conspicuously smooth and ZT fit and finish is second to none. Our customers have described ZTs as a "real beast" and—proudly—"overbuilt." All ZTs are built in our Tualatin, Oregon USA manufacturing facility by our most skilled workers.

Request more info from Zero Tolerance Knives
Thank You!