PRESS RELEASE
ASP to unveil dramatically expanded flashlight line at SHOT 2018
---
APPLETON, Wis. — Armament Systems and Procedures (ASP), a leading manufacturer of law enforcement products, will debut more than a half­ dozen new additions to its line of high-performance tactical lighting solutions at the SHOT Show in Las Vegas, January 23-26. Among the featured introductions are: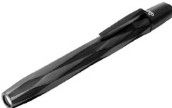 "Stealthy" high-powered pocket light
The new Raven every day carry light draws immediate attention with its unique, 45-facet barrel, reminiscent of the angular surfaces of a stealth aircraft. Under its slim polymer shell is an aluminum chassis that houses advanced electronic and optical components, driving 140 lumens of LED light off just two AAA batteries (included). ASP's "double tap" feature activates a secondary illumination level of 15 lumens. MSRP $48.
Programmable flashlights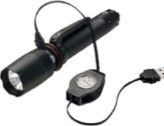 ASP is investing heavily in advanced programmable technology, starting with three new models - the XT DF Programmable, Pro DF and Pro AA. Each has a fixed maximum illumination level (600, 610, and 305 lumens, respectively) and a user-programmable secondary setting of either 15, 60, or 150 lumens, or strobe. The XT DF and Pro DF are Dual Fuel, running off either a rechargeable 18650 battery or CR123A primary cells. The Pro AA used two AA primary cells. MSRP from $100 to $160.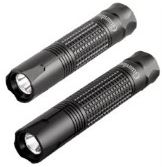 High-intensity, ultra-compact lights
In keeping with the "two is one, one is none" philosophy that ASP incorporates in its training programs around the world, the company is expanding its Every Day Carry light category, favored by many law enforcement officers as backups to their primary duty lights. The new Guardian AA/DF and CR/DF lights each produce more than 400 lumens in a palm-sized form factor. Both Guardians are Dual Fuel, using either the included rechargeable battery or single-use primary cell. MSRP $75 and $85.
ASP Vice President of Marketing, Michael Hess, says that the company has been in major growth mode in the flashlight category over the past couple of years, and that will accelerate in 2018. "We have been gratified to have more and more law enforcement agencies adopting our flashlights," says Hess, "and one of the benefits of that is being able to incorporate a tremendous amount of field testing and feedback in new models." 
All of the new lights - and much more - will be on display at the SHOT Show, booth 11971, and all are either shipping now or expected to ship soon after the show. For more information, or to find a distributor or dealer, visit www.asp-usa.com. 
About ASP: "Protecting Those Who Protect"
ASP is a leading manufacturer and supplier of Batons, Restraints, LED Lighting, OC and Training products to the law enforcement industry. The company has stood for Innovative designs, flawless function and an unmatched standard of service since Kevin Parsons, PhD, founded the company in 1976. ASP holds more than 150 product patents and provides almost $2 million in free training each year to law enforcement professionals. ASP is ISO 9001:2008 Certified, ANSI FL1 compliant, and is a founding member of the Portable Lights American Trade Organization (PLATO). All products are designed in the United States.