SHOT Show 2014: Guardian Angel shoulder light
Rugged LED unit clips to shirt or vehicle for identification and high visibility
---
425, Inc. made their SHOT Show debut this week with their new product, the Guardian Angel — a light that can be modified and affixed to a person's shoulder, bike mount, or roof of their vehicle so that they can see and be seen when they need to be.
The Guardian Angel was created to keep police officers safe by keeping them in plain sight with a strobe-like flashing light affixed to their uniform, but the uses and benefits of the product extend far beyond that.
Different Patterns for Different Uses
The six-ounce light bar, no larger than a cell phone, uses LED lights that can be seen from over two miles away. It has the capability of flashing from every angle or generating an isolated flash at the front or rear of the light bar.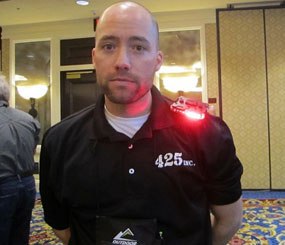 An officer approaching a vehicle at a traffic stop on the road's shoulder, for example, can quickly switch the light bar on so that only the rear of the bar is flashing — enabling vehicles coming from behind the officer to see him or her. The same feature would allow back-up police to find an officer who is in foot pursuit without simultaneously flashing in the direction of the suspect.
The light bar can also function as a hands-free flashlight by turning on a steady light on the front of the product only.
The 360-degree flashing feature is ideal for crowd control situations, or when an officer is in need of emergency assistance or needs to be located. It's bright enough to create an emergency landing zone or establish a visual barrier in a crowd control situation.
Rugged and Long-Lasting
The Guardian Angel light bar is available in a wide range of LED colors — red, blue, yellow, white, orange, and green to accommodate different uses and verticals of first responders — as well as the option for combination lights, like red and blue for police vehicle lights.
A strong magnetic clip attaches to the light bar to transform it into an instant vehicle light for unmarked patrol cars that can quickly be removed when the officer needs to be covert.
The bar runs on rechargeable lithium ion batteries that allow up to 93 hours of continuous use. It's durable, water resistant, and can withstand extreme work and weather conditions. That makes it ideal for many off-duty scenarios as well, such as biking, jogging, and hiking.