PRESS RELEASE
Rigid Industries LED Lighting Reveals New Products at SEMA Show 2014
---
Phoenix, AZ – Rigid Industries® LED Lighting, the world's leader in forward projecting LED lighting via its patented optic systems and torture-tested housing, unveils its latest and hottest new products at the SEMA Show 2014 featuring the R-Series 46™, Dually XL Series™, DOT/SAE Lights, E-Mark Certified Lights, Rigid Industries Capture™ GoPro® light bar, Amber and White Dual Function LED Lights, and the High and Low Dual Function LED Lights.
R-Series 46 - The all-new R-Series 46 Light raises the bar for Rigid Industries as its first circular light with all the superior output and technology Rigid is known for. This adaptive crossover sets itself apart from the rest with its curved lens, curved housing, crossbeam look, compact design, patented optics and advanced heat sink. Available in Spot, Hyperspot, Flood, Combo, Driving and Wide beam patterns and marine, the R-Series 46 is the total lighting solution. The World of Round Just Got Rigid.
Dually XL Series - Everything you expect from the innovative D-Series is now available in a bigger and brighter package. With its unbreakable polycarbonate lens, durable UV-resistant polyester powder-coat, stainless steel hardware, and vibration isolator, the Dually XL utilizes patented optics that project high intensity LED light with more output for use in any application.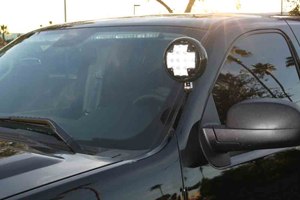 DOT/SAE Lights - DOT/SAE Compliant Street Legal lights are the Dually Fog light Set and the 6" E-Series Auxiliary High Beam Driving Light Set. DOT /SAE Compliant lights allow Rigid Industries to be used on-road and not just off-road.  
Our new Clarilux™ optical system provides an ultra-smooth 4 deg tall x 45 degree wide light beam which provides a wider, brighter and smoother beam pattern than has ever been available in a DOT and SAE compliant lighting system. The Fog Light set is compliant with SAE J583 and the Auxiliary High Beam Driving set is compliant with SAE J581.
E- Mark – Certified Lights - Rigid Industries LED Lighting now offers E-Mark Certified Lights.  The E-Mark Certification is a widely recognized mark in the automotive industry covering the basic safety requirements of motor vehicles and other related products within the European Economic Area. 
The Rigid Industries® Capture™ - Reveal. Record. Relive.™ Capture combines high-power LED lighting with constant power to GoPro's Hero® cameras, removing all limitations of battery life in a water-proof housing. The High/low brightness controls on Rigid Industries® Hyperspot/driving optics, constant power to GoPro® Hero camera, water-proof construction, and 10" RDS-Series radius housing for greater light spread makes for the ultimate adventure package. Record your night adventures, with all the light and power you need. Be Nocturnal™.
Amber & White Dual Function LED Lights - Rigid Industries' Amber & White Dual Function LED Lights meet the changing conditions with one light. These lights feature top row amber LEDs and bottom row white LEDs and includes a 2-trigger three-position rocker switch.
High & Low Dual Function LED Lights - Rigid Industries' High & Low Dual Function LED Lights provide the option of high or low intensity LED lighting to suit any environment. These lights feature a three-wire harness, and the low, high, or off three-position rocker switch which gives you the option of running at full intensity on high power or 20% intensity on low power.
The toughest conditions on Earth are no match for the superior lighting and long-lasting performance Rigid Industries LED Lighting products provide. Rigid's rugged and durable products are backed by a world-renowned warranty program and customer service by an American-made company located in Gilbert, Arizona.  

Visit the Rigid Industries outdoor Baja 1000 experience booth or the inside booth located in the Upper South Hall booth #34193.  
About SEMA: The Specialty Equipment Market Association (SEMA) is a trade association consisting of manufacturers, distributors, retailers, publishing companies, auto restorers, street-rod builders, restylers, car clubs, race teams and more, brought together by a love for cars, trucks and SUVs.
About Rigid Industries®: Thanks to its unparalleled patented Hybrid™, Specter™ and Hyperspot™ optics and its torture-tested housings, Rigid Industries® is a world leader in the forward projecting LED lighting industry. Rigid Industries® ranked 316th on the Inc. 500 list for 2014 and ranked as the fastest growing off-road LED lighting manufacturer in America. Rigid LED lighting products can be used in a plethora of applications across industries such as: agriculture, construction, emergency response, industrial, marine, military, mining, and, of course, off-road and power sports. Rigid Industries® is committed to providing top-notch, innovative technologies and always guarantees a quality product which has been designed, engineered, and assembled in the USA.