PRESS RELEASE
Dahlgren Decon awarded Federal Laboratory Consortium's Excellence in Technology Transfer 2018 Award
---
Decontamination product neutralizes Fentanyl, chemical, and biological agents
CHANTILLY, Va. — First Line Technology congratulates its technology transfer partner, Naval Surface Warfare Center, Dahlgren Division (NSWCDD) on winning the Federal Laboratory Consortium's Excellence in Technology Transfer Award for 2018. A research team at Dahlgren led by Chris Hodge developed the decontamination solution which is fast, environmentally friendly, easily transportable, and performs better than existing contaminants.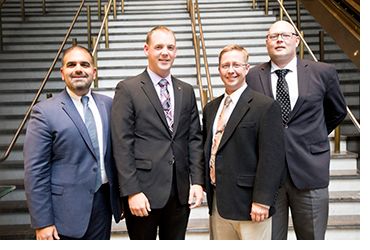 Dahlgren Decon has been proven to completely neutralize Fentanyl in under five minutes making it a powerful new weapon in the fight against synthetic opioids. The product also is highly effective against a wide range of chemical and biological agents including mustard gas, nerve agents such as VX, anthrax and the Ebola virus.
In 2015, Dahlgren Decon was licensed to First Line Technology, a small business in Virginia, for development of a commercial decontamination product. The company's core business area is the design and manufacture of disaster preparedness and response equipment for Department of Defense (DoD) and first responder emergency response missions. Dahlgren Decon was a perfect fit for its existing product line.
In 2016 and throughout 2017, First Line Technology commercialized the product and made it available for sale. It is available off-the-shelf to the DoD, first responders, or others requiring the decontamination of biological or chemical contaminants.
Since the First Line Technology product came on the market in 2017 the company has successfully marketed (with significant sales) to entities within the Department of Justice (DOJ), DoD, and several federal intelligence agencies. Numerous state and local agencies have purchased the product, and several international entities are expected to do so soon. The customer base is growing rapidly, and Dahlgren Decon has become the new standard in decontamination.
"We at First Line Technology are very proud to work together with the research team at NSWC Dahlgren Division to bring Dahlgren Decon out of the lab and make it a life-saving technology that is used to reduce the threat of chemical and biological agents, like fentanyl.", says Amit Kapoor, President of First Line Technology. "Its rapid acceptance by the military, intelligence agencies, and law enforcement is a testimony to its effectiveness."
About First Line Technology
First Line Technology, LLC designs and manufactures disaster preparedness and response equipment, including PhaseCore personal cooling items, DeconTect decontamination products, and AmbuResponse mass casualty response systems. Our mission is to prepare for, protect against, respond to and recover from all hazards with lab to life-saving technology.

Request more info from First Line Technology
Thank You!