Officers discover police headstones, firearms during home search
The man had a collection of police, fire and military headstones allegedly stolen from the cemetery across the street
---
By Police1 Staff
COHASSET, Mass. — Police discovered a collection of stolen police, fire and military headstones and 98 firearms during a home search Friday.
According to the Patriot Ledger, police searched Robert Stoddard's home after receiving a tip of multiple improperly secured firearms. When they entered the home, they found shotguns, rifles, pistols, military-grade ordnance shells and cases of ammunition spread across the home.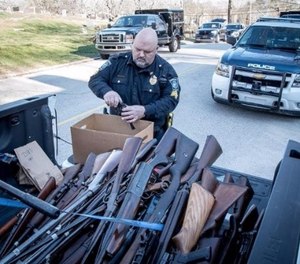 Police Chief William Quigley told the publication Stoddard did not serve in the military, but lives near a former military ammunition depot.
Along with the firearms and ammunition, officials found multiple police, fire and military headstones allegedly stolen from the cemetery across from Stoddard's home. Authorities are working to identify the families. 

Request product info from top Police Firearms Storage companies
Thank You!