SHOT Show 2013: The OTIS Team Range Box
---
Otis, the folks who have brought us many innovative firearms cleaning materials, introduced the Team Range Box at SHOT Show 2013.
This is a self-contained cleaning station designed for law enforcement agency trips to the range.
It can support 10 or more individuals all servicing their weapons at the same time. The box is well organized and features a gun vise for stability while cleaning long arms.
The Team Range Box is available in six different combinations of common law enforcement calibers.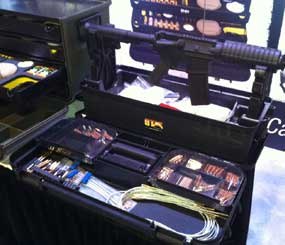 All of the kits support the 5.56 rifle cartage but you have a choice between 9mm, .40 cal. and .45 cal. handgun cartages as well as the choice to include 12-gauge shotgun to the list of supplies your agency kit needs.
This is an excellent, well-thought-out product that should meet the needs of many interested customers.
For more information, visit Otis at www.otistec.com.