Why the Inforce WML and WMLx are different from other rifle lights
Unlike most lights currently mounted to most patrol rifles, the Inforce WML was designed from the start for use on a rifle, not as a handheld light or a light to be mounted to a pistol
---
Most lights mounted to most patrol rifles fall into one of two categories: they are either a tactical light designed for a pistol, or a small tubular flashlight built for handheld use. 
The first usually have a rocker switch that is pressed with the support-hand thumb to activate. These lights normally attach to the pistol's dust cover but they can also be attached to a rifle's railed forend. The second variety is commonly secured to the rifle by means of some type of clamp or ring that then attaches the light to the rifle's rail.
Both work, but both have flaws. The mounted handheld light will probably be activated by a push-button tail cap that can be small and somewhat awkward to use. Any additional switches will usually leave exposed wires that can get snagged on gear. The dedicated pistol light, with its own direct-attach base, will probably have to be turned upside down to put it in a useable location on the rifle. Turning this type of light upside down can cause some confusion in the user, if the same type or style of light is used on a handgun (the switch will now work in the opposite direction).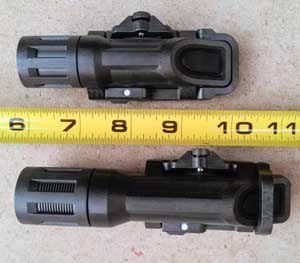 Designed From the Start for Rifle Use
Departing from both these types, the Inforce WML is unique in that it is neither a tubular handheld light nor a rail-mounted pistol light. The WML is designed from the start for use on a rifle. The WML features a built-in mounting base and angled pressure switch so no additional parts are needed to put the light in service. 
The light uses a hinged arm that can be rotated up to block the switch to help prevent accidental pressing but still allows deliberate activation if needed. Available in several colors and with a variety of features such as infrared, the WML is an LED flashlight powered by a single lithium 123 battery. The WML produces 175 to 200 lumens (depending on model) of white light on the high setting and has an expected battery life of about an hour and a half. 
Two hundred lumens is a little dim by today's standards and Inforce has now released their 500-lumen weapon-mounted light dubbed the WMLx. The new light is true to the useful and thoughtful design of the original, but now uses two lithium batteries instead of just the one in the WML. 
The additional battery increases the length and weight but also battery extends life to about two hours. A new feature unique to the WMLx is its flickering strobe. Many tactical lights feature some type of strobe setting and some of these are so fast they produce basically a constant uninterrupted beam of light. Useless! The WMLx uses a random strobing pattern that can't be timed and is quite confusing for the person on the receiving end. 
How Much Light is Enough?
One can certainly make the case that the standard WML, with its 200 lumens, is bright enough for anything the patrol officer is likely to encounter in an urban setting. Some might even say that brighter lights are not needed and can actually be a determent when working in close quarters since the amount of "splashback" can be quite high with a very bright flashlight. 
These are good points but, working primarily outdoors, I prefer the new brighter 500 lumen model to the original. In my experience, the standard WML throws a fairly wide beam and is only really good to about 60 yards in open terrain. The new WMLx extends the range at which a target can be identified to 100 yards easily.
My only real concern with WMLx, is the material used in construction. The WMLx is constructed of polycarbonate, to include the mounting base. This material no doubt keeps weight to a minimum but it has been my experience that any accessory out near the muzzle on a patrol rifle will eventually get banged against a door jamb or barricade and I have to wonder about the Inforce's long term durability. 
I expressed my concern to Abner Miranda, Inforce's LE sales manager. He said, "I've shoved my WMLs through windshields, dropped them on concrete, and banged them around far more than any one man could ever expect in a lifetime and have never been able to do more than scratch the bodies." 
As more and more companies introduce lights that can put out 1,000+ lumens, I'm glad to see the new 500-lumen WMLx. The WMLx's unique features really make it an interesting choice for those looking to mount a dedicated light to a rifle. Hopefully Inforce won't be so slow on the uptake with their 1000 lumen model. 

Request product info from top Police Weapon Lights companies
Thank You!