Testing SIG's Elite Performance Ammunition in .380 Auto
My tests confirm that this particular cartridge belongs in the top ten percent of production .380 cartridges I have tested
---
I recently tested the SIG SAUER's new Elite Performance Ammunition in .380 Auto. These are 90-grain JHP cartridges with a unique bullet configuration that improves their capabilities. 
The .380 Auto is generally considered a marginal caliber, and I would never recommend it for duty. However, it's no coincidence that Glock, SIG SAUER, Beretta and several other brands have introduced new .380 firearms. 
I've been testing cartridge performance for decades and the past five years of .380 terminal ballistics have been the best five years in the industry. To put this in perspective, the SIG SAUER Elite Performance .380 Auto performs almost as well as earlier 9mm tests.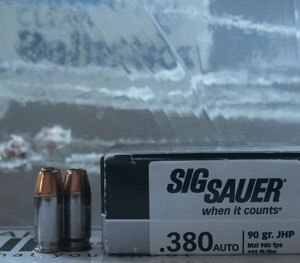 Testing in Gelatin
I ran the Elite Performance .380 Auto through ballistic gelatin — both bare and through clothing fibers. In bare gelatin, it averaged 13 inches. The desirable penetration for bullets is 12-18 inches. Obviously, duty bullets are generally heavier, but this is great performance for a .380 Auto. It should be noted that the nose of this bullet design occasionally was impacted with material when clothing penetrations were used, causing severe over penetration. 
The SIG V-Crown bullet uses pre-scored cuts in the jacket to predict the lines on which the projectile will expand. Instead of a single score that forms a petal, the Elite Performance bullet uses an inverted V cut. I found that the petals created by these cuts gave them a reliable 150 percent of surface area and nominal weight retention. This can only be accomplished by careful engineering, followed by lots of testing.
I did not do after-barrier tests, but the bullet did not have any issues with penetrating walls or sheet steel. The nominal muzzle velocity is 980 fps but I used a short barrel .380 Auto and got more than 900 fps consistently, but never 980 fps.
My tests confirm that this particular cartridge belongs in the top ten percent of production .380 cartridges I have tested.
Three Rules
Unless the department specifically dictates which calibers and cartridges one may carry off duty, law enforcement officers are not likely to carry their full-sized duty firearm. I have a dozen or so general rules for off-duty conduct. Three of them are appropriate here:
•    Always carry a firearm
•    Carry the most effective firearm your wardrobe will allow
•    Your carry handgun must be capable of a hostage rescue shot (one must be able to hit 4" target at 10 yards consistently)
There are other rules, but let's address these rules and move on. I do not make exceptions to "Always carry a firearm." One time, I was 1,000 miles away from home, driving through the desert part of Nevada. I stopped at a rest stop in a remote area, 30 miles from the nearest sign of civilization. There were two cars in the parking lot. One of them was mine. As I was leaving the men's room, the only other person was walking up to the door.
"Hey, I know you! You put me in prison ten years ago."
The face was familiar, but I didn't have any context to know if this was a greeting or a threat. I did something instinctively, while I watched the hands. My .380 Auto was already in mine, but he would not have known that.
This ended without incident and I continued on my way without any quickening of the pulse. I was ready.
I do not surrender a firearm just because a business does not like my habit or watchfulness. Sheepdogs don't break into the practices of sheep. If the place inspects for firearms, they either don't get my business, or are less clever than I am about finding them. The only phrases that solicit my surrender of a firearm include: "County Jail," "State Prison," or "Juvenile Hall."
The wardrobe affects the type of gun one carries. Few like to bicycle or run while carrying their full sized 1911. My NAA Guardian fits neatly in my pocket and the two other magazines fit in other pockets. It's not my duty rig, but I practice with it and I would bet on me in a gunfight. I carry SIG SAUER Elite Performance ammunition.

Request product info from top Ammunition companies
Thank You!