PRESS RELEASE
AMMO, Inc. Extends STREAK Product Line and Supports with Expanded Marketing Strategy
---
SCOTTSDALE, AZ, — AMMO, Inc. ("AMMO"), a technology leader and premier American ammunitions manufacturer, today announced the extension of its innovative STREAKTM Visual Ammunition product line to meet demand for an additional seven SKU's. The Company is further supporting its retail and distribution partners with a multi-channel marketing strategy that will communicate the product line's unique visual attributes.
AMMO, Inc. providing retail customers in-store brand support with STREAK Visual Ammunition video display
"The traction we are experiencing from the industry and shooting sports enthusiasts with our STREAK Visual Ammunition is remarkable. Consumers have been requesting an extension of the STREAK ammunition line since its introduction in December 2017 and today we are making an additional seven SKU's available to the public to meet that demand. Those new SKU's include five new 9mm offerings, .44 Special and .44 Magnum," commented Mark Hanish, President of Global Commercial Sales and Marketing.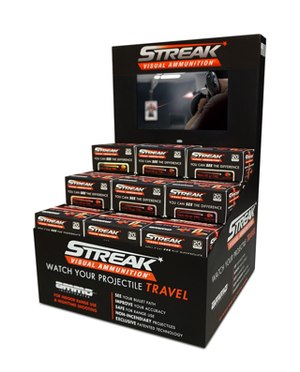 Mr. Hanish continued, "In addition, we've expanded upon our existing marketing plan with a multi-channel strategy that better aligns with the retailers who are on the front lines, engaging with customers, and driving awareness of our high quality and innovative products. We are making available a countertop display, complete with a video package demonstrating the visual signature of STREAK, to help drive velocity of high-margin sales of our STREAK products in their stores. Further, we are augmenting this in-store support with a digital and print advertising strategy that will raise our brand visibility with consumers. The response from our industry partners has been overwhelmingly positive and we are excited to provide this additional framework to assist in their future success."
Beginning next week, AMMO, Inc. will be visible on the popular Sportsman's Channel, as well as several of the top ammunition and firearms industry publications such as RECOIL, Guns & Ammo, Ballistic, Firearms News, Shooting Times, Tactical Life, Combat Handguns, Personal Defense World and Skillset. These traditional media outlets will continue to be supported through other digital and social media channels as well.
Recent coverage can be found here:
https://guntalk.com/gun-talk-radio/temp-v-ammo-performance-streak-ammo-new-shooting-record 
https://www.shootingillustrated.com/articles/2019/5/23/review-streak-visual-ammunition/
About AMMO, Inc.
AMMO designs and manufactures products for a variety of aptitudes, including law enforcement, military, hunting, sport shooting and self-defense. The Company was founded in 2016 with a vision to change, innovate and invigorate the complacent munitions industry. AMMO promotes branded munitions, including its patented STREAK™ Visual Ammunition, the Jesse James line of munitions and accessories, /stelTH/ subsonic munitions, O.W.L. Technologies®, TAC-PTM Tactical Precision Defense munitions, and OPS (One Precise Shot), a lead-free frangible tactical line of munitions for self-defense. The Company's corporate office is headquartered in Scottsdale, Arizona, and operates a munitions manufacturing facility in Payson, Arizona, as well as a brass casings manufacturing facility in Manitowoc, Wisconsin. For more information please visit: www.ammoinc.com

Request more info from Ammo Inc.
Thank You!