Selecting a patrol rifle: A systems approach
Knowing that our patrol rifles would most likely be in service long after I was dead, I wanted our rifles to comply with current and future standards and to be as adaptable as possible
---
Editor's Note: We're pleased to introduce Dennis Haworth as the newest addition to the PoliceOne roster of writers. Haworth is a police officer with a California state law enforcement agency and has been a law enforcement range master and armorer for more than a decade. Dennis will write on a wide range of issues, but his core focus will revolve around law enforcement firearms training and equipment. For his debut, we've set Dennis for a "three round burst" related to his experience in selecting patrol rifles for his agency. Check them out and let Dennis know what you think.
I was a founding officer when my current agency came into being in 2005. We had one car, one radio, one set of keys, and we worked 12-hour shifts (alone!). The day I started I was the department range master and Armorer as I had held these positions with my previous agency. My Chief was clear: She wanted rifles in the cars.
Looking at All Variables
We started with a discussion on what caliber suited our needs now and into the future. We are 10 sworn from the Chief down but in 20 years we are projected to be 70-90 sworn. We have numerous multilevel buildings, thousands of acres of open pasture, underground tunnels, housing complexes, and other large facilities. Due to our topography and population density we needed a round that limited the possibility of over penetration. The two that came to prominence were 5.56mm and 5.7x28mm. My officers expressed that they were more confident in 5.56mm versus 5.7x28mm. My guys need to hit the street confident in themselves as well as their gear. Lack of confidence can literally get an officer killed so 5.7x28mm was dropped.
As I surveyed the crop of viable rifles I settled on the following for consideration: AR-15/M4, SIG 551, H&K G36K, FN SCAR, FN F2000, and the Steyr AUG. I wanted to have magazine commonality with surrounding agencies so only rifles that used AR-15/M16 magazines remained. In 2005/2006 the FN SCAR was not available so it was eliminated. This left the AR-15/M4 and the FN F2000.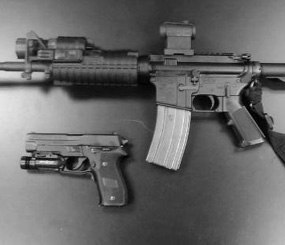 Security a Major Concern
A major concern for our agency was the security of the rifles in the patrol cars so I had to find the most secure racks I could. The F2000 offered great handling; ambidextrous controls and a small profile, the issue of available racks that met our needs eliminated it from consideration. The AR-15/M4 was the only rifle still standing. I found Big Sky and their excellent line of ELS rifle racks. What set the Big Sky offerings apart are the metal plates that cover both sides of the receivers when the rifle is in the rack. Eliminating access to the take down pins is a big plus in keeping the rifle secure in the rack. The design significantly reduces access to the trigger, selector and magazine. If you have seen what happens to a light bar after an officer intended to dry fire a shotgun in the rack only to find out it was loaded, you understand why this is so important. So far we have not had one issue with any of our Big Sky rifle racks.
The Twist-Rate Debate
Knowing that our rifles would most likely be in service long after I was dead, I wanted our rifles to comply with current and future standards and to be as adaptable as possible. This added three standards: the rifle had to have M4 feed ramps, Parkerizing under the front sight base and 1/7 twist barrels (check out my sidebar item on twist rates). That eliminated many manufacturers who decided to either not stay current or to cut corners. We settled on Colt and LMT. The price difference was minor but Colt offers an LE Armorer class. That tipped the scale in Colt's favor.
Barrel length debates came next. My boss wanted 16 inch and I wanted 11 inch. We compromised and bought 14.5 inch Colt model 6921 semi only M4 carbines. In California, state law dictates that officers must be sent to a POST rifle class before being issued any short barreled rifle. By getting the 14.5 inch rifles and issuing one to every officer this ensures future administrations must send all new hires to rifle training.
We recognized the need for weapon mounted lights. I did not want anything with wires hanging off to get snagged or damaged. I found that Big Sky makes the ESL-270 specifically to work with the Surefire M500 light. This made the selection obvious. The M500 has shown to be a reliable clean light that is easy to use and fits my agencies needs.
Choosing Optics & Slings
My Chief made it clear she wanted an optic on every rifle based on her past experience. The Eotech was eliminated due to the battery box issues at the time and the ACOG was eliminated due to the reticule blacking out in certain situations. I conducted a test and evaluation on the Aimpoint M3, M4 and T1. The M4 was eliminated due to cost. Every officer shot an M4 carbine equipped with the M3 and the T1. Every officer voted for the T1. Each said the sight picture of the T-1 was "just cleaner." We have equipped all our carbines with Aimpiont T1's in LaRue mounts. This has proven to be a very reliable and durable set up. Our Aimpoints are left on all the time to eliminate an officer deploying the rifle with the optic turned off. We simply change out the batteries once a year — regardless of whether or not they need it — so as to eliminate the possibility that the battery will die at the wrong time.
Two of my officers are former SWAT members who made it very clear they wanted a single point sling. I attended the 2006 SHOT Show and checked out the various slings. I was most impressed with the Troy Ind. single point and after looking at all the available sling mounts I settled on the Yankee Hill sling plate. This combination has worked well.
We purchased Specter Gear M4 thigh pouches and Eagle M4 FB chest rigs to carry extra magazines. Our officers can chose which they prefer and equip them how they want. It's about 60/40 in favor of the thigh pouches. In the up-coming years we will add individual med-kits for each chest rig and possibly switching to plate carriers with hard armor plates.
Lessons Learned
So looking back, what would I have changed? I get asked that a lot. I would push harder for 11" barrels. The Arcadia (Calif.) PD has been using 11" Colt Commando's for years with outstanding results. The shorter barrel allows the officer to remove the carbine from the rack, mount the sling, chamber a round while seated in the patrol car without opening the driver's door. With the "pre-fragmented" bullet designs of today fragmentation is achievable at greater ranges than with FMJ and soft point loads making barrel length less important. It's a balancing act. I would have used the Noveske or Daniel Defense QD sling plates in place of the YHM to allow the sling to function ambidextrously instantly and allow for smoother transitions from left and right shoulders.
Looking at current products available I most likely would have purchased Daniel Defense 11.5 inch, hammer-forged, light-weight barreled carbines with Magpul MOE stocks, Magpul MOE trigger guards, Daniel Defense sling plates, Blue Force single point slings, Surefire flash hiders, and Gas Buster charging handles. This way we get the lightest, handiest carbine possible that accommodates cold and wet weather with the larger trigger guard for gloved hands and a rubber butt pad.
As our rifle program moves forward we are planning on adding suppressors to our rifles due to OSHA and other risk management concerns. Fortunately the current products on the market will fit with our systems approach. They will fit on the rifle, fit in the rack, and not interfere with our lights and optic. My choices were dictated by the needs of the department and not what I personally wanted. In the end my agency provides an outstanding tool to its officers that has met their needs and the agencies. If you are ever given the opportunity to develop any program such as this make sure you look at all aspects of the program, all the component pieces and how they will fit together. Take a systems approach. Far too often we are forced to make do with what we have. In those rare times when we get a clean slate to work with, take advantage of it.