Tactical lubricant keeps guns clean in extreme conditions
The lubricant penetrates deep into the metal itself leaving a slick surface that inhibits carbon, copper and lead build up
---
By Police1 Staff
Italian Gun Grease has created a new Tactical Lubricant™ formula engineered for extreme combat and competition conditions.
The lubricant penetrates deep into the metal itself leaving a slick surface that inhibits carbon, copper and lead build-up, according to the company.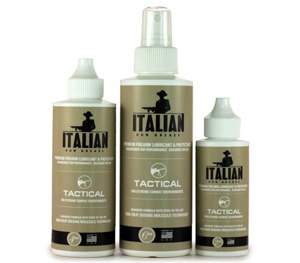 It reduces friction, increases muzzle velocity, lowers standard deviation, reduces malfunctions and extends the life of a firearm.
The formula uses HSM Technology to stay effective in high temperatures. It has a working temperature of -40 to 1000 degrees. 
The Tactical Lubricant Formula is available in a variety of sizes from 2 oz. to a gallon. MSRP for a 2 oz. bottle is $7.95.
For more information, visit www.italiangungrease.com.