PRESS RELEASE
Center Mass Introduces the Patrol Rifle Integrated Magazine Pouch
---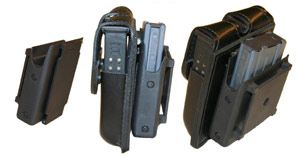 Introduced at the 2009 SHOT Show, the Patrol Rifle Integrated Magazine Pouch has quickly become a favorite among the law enforcement community.
The Patrol Rifle Integrated Mag Pouch allows the patrol officer to carry an AR15 type rifle magazine securely on their person in a sharp and professional manner without overburdening their gun belt. This is accomplished by attaching it to the officer's issued pistol magazine pouch or other duty gear, in a stacking manner. This provides the officer a comfortable and secure point to carry either a 20 or 30 round magazine on their person without the worry of having to remember to grab it when exiting their scout car.
Made of durable polymer materials the Patrol Rifle Integrated Mag Pouch will fit practically all 2¼ inch wide gun belts. The open top design provides quick access to the rifle magazine while the adjustable, spring-loaded, hard rubber retains a fully loaded magazine in the vertical or horizontal mounted position on the gun belt.
The Patrol Rifle Integrated Mag Pouch gives the officer the tactical edge they need during a violent confrontation. A gunfight is a "Come as You Are" event, the officer will be either prepared or lives could lost.
For more information on this product or other Center Mass products and services, please contact us at 800-794-1216 or www.centermassinc.com.