Top 5 most expensive guns sold in September 2020 Rock Island Premier Firearms Auction
The least expensive of the five starts out at $345,000
---
This article originally appeared on The Firearm Blog
Welcome back to another installment of our series of articles dedicated to firearms consigned and sold at the largest American auction houses. Last time, we took a look at some of the most obscure guns found in the catalog of the September 2020 Rock Island Premier Firearms Auction. The auction took place from September 11th to 13th, as scheduled, and today we'll see what were the most expensive lots that went under the hammer during the September 2020 Rock Island Premier Firearms auction.
Our list goes in the price ascendancy order with the most expensive lot being the number one and shown at the end of the article. The lot names are linked to the corresponding Rock Island Auction catalog pages where you can find more pictures and detailed descriptions of the lots.
#5 – $345,000
Bob Dalton's Factory Engraved Colt Single Action Army Revolver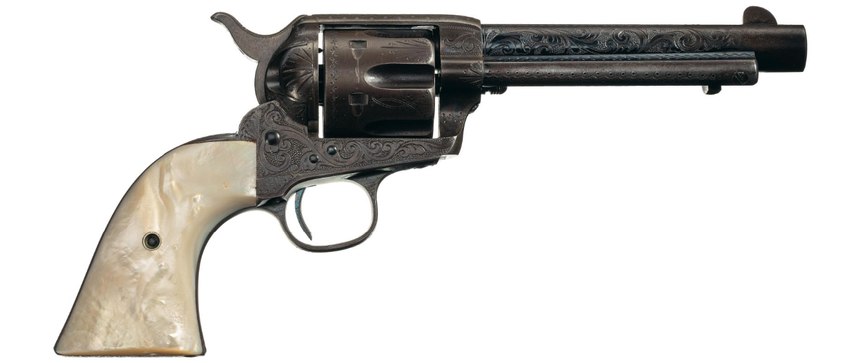 As we have seen before, oftentimes the price of any particular lot is formed based on whom that item belonged to and the history behind it. If a gun belonged to a prominent historical figure, whether hero or villain, then obviously it'll cost much more than other firearms of comparable condition and rarity. That is the case with this factory engraved Colt Single Action Army revolver. Although it is a nice firearm on its own, what makes the collectors pay a third of a million dollars for this wheelgun is the well-documented fact that it belonged to Bob Dalton, leader of the Dalton Gang, one of the most notorious gangs of American Old West.
The Dalton gang was known for robbing banks, stagecoaches and trains and was responsible for many such crimes. However, what they planned and attempted in October of 1892, in Coffeyville, Kansas was something unprecedented – a simultaneous robbery of two banks. Interestingly, money was not the only goal of this rather ambitious plan. They wanted to do something that no other gang has ever done before, primarily to one-up the reputation of Jesse James and the James-Younger gang. Specifically for this robbery, they purchased ten factory engraved Colt revolvers – a pair of fancy wheelguns for each of the five members of the gang. Well, that audacious robbery attempt was unsuccessful ending with a shooting where Bob Dalton was killed. This particular revolver is one of the two guns that Bob Dalton was wielding and it was taken from his dead body.
#4 – $373,750
Cased Pair of Percussion Pistols by Brun of Paris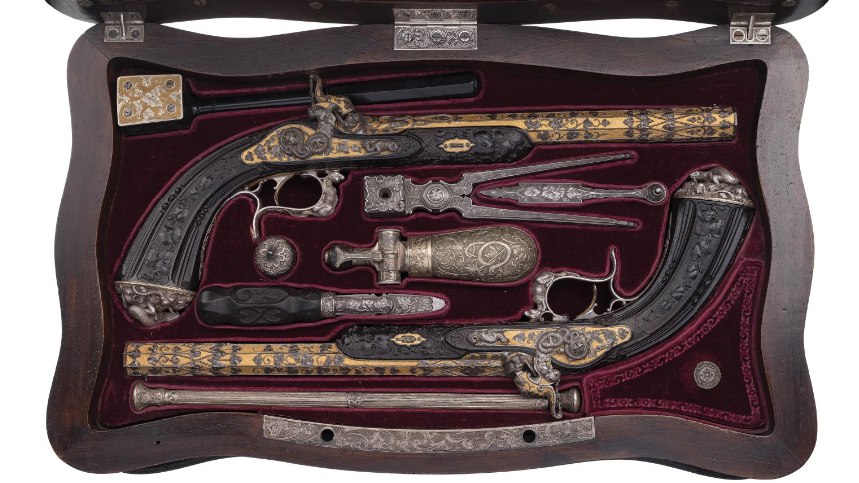 This deluxe cased pair of 45 caliber French percussion pistols was made by Brun of Paris and displayed at the International Exhibition of 1862, also known as the Great London Exposition. The set was highly praised by the jury of the exhibition and won awards. This pair of pistols is plated with gold and silver and literally completely covered in various raised three-dimensional embellishments. Meticulously sculptured figures of various creatures, both real and mythical, are decorating the trigger guard, pommel caps, lockplates and hammers of these pistols. Floral motifs can be seen all over the parts as well as carved in the ebony grips. The set also includes elaborately engraved loading tools and accessories that match the overall embellishment motifs of the pistols. Before being consigned to the Rock Island Auction, this pair was displayed at the Metropolitan Museum of Art for almost 20 years, on loan from the Dr. Gerald Klaz collection.
#3 – $402,500
Torcoli Engraved Fabbri Over & Under Shotgun Trio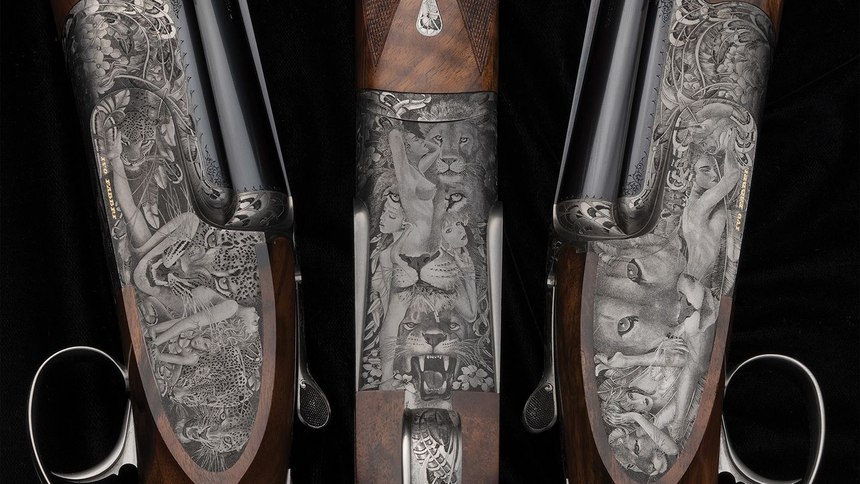 Well, it may look unfair to include this lot into our list of the top five most expensive guns because it consists of three firearms. However, this is not just a lot combining three guns. Like the cased revolver pairs, this trio is an inseparable consecutively numbered set. These 12 gauge over and under shotguns are manufactured by Ivo Fabbri of Italy and engraved by Manrico Tarcoli, a renowned Italian engraver. Both the extraordinary Fantasy engraving motif itself consisting of scenes of cougars, leopards, and lions with nude women, and its brilliant execution with Bulino engraving style make this set just an amazing work of art. These shotguns are also fitted with extra fancy grade Circassian walnut furniture and are in perfect condition, likely never fired.
#2 – $431,250
U.S. Colt Model 1890 Gatling Gun on an Original Carriage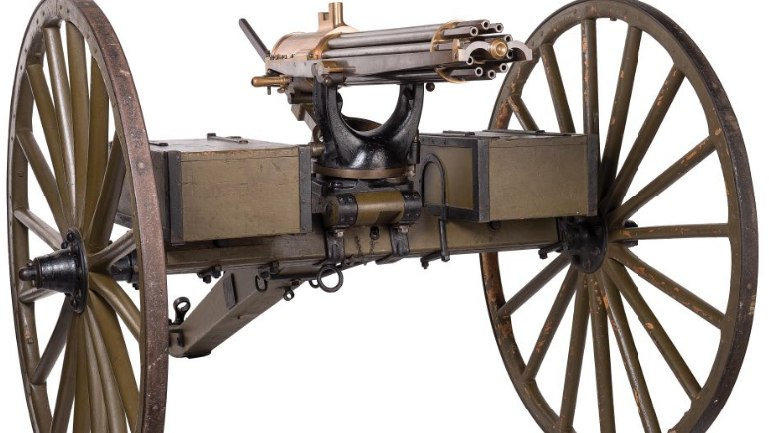 Designed in 1889 and being the evolution of the Gatling Model 1883, this model got rid of the enclosed barrel group design of 1883 and returned to the exposed barrel design of the earlier Gatling guns. Gatling guns made from 1889 and 1892 are basically identical. This particular model is manufactured in 1890 hence the model name. It was one of only 18 Model 1890 Gatling Guns purchased by the US government. Not only it survived to our days, but it is in excellent condition with an original field carriage. In fact, according to the Rock Island Auction Company, this is the finest known example of a Colt Model 1890 Gatling Gun extant.
Some of the design improvements over the 1883 included the Murphy Stop (a device allowing to disengage the cocking mechanism when unloading the gun or for training without ammunition), improved control knob, interchangeable hopper that could be used both with Bruce feed and older gravity feed magazines, and new carriage design. This 200 pounds (without the carriage) beast has ten 32″ barrels chambered in .45-70 Government and can deliver lead downrange at a rate of fire of 525 rounds per minute.
#1 – $460,000
Only Known Engraved Colt Model 1847 Walker Revolver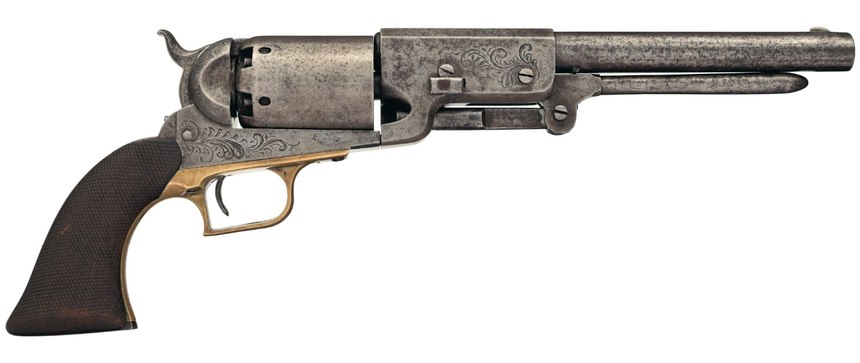 Every time a Colt Model 1847 Walker revolver is consigned to an auction, chances are high it will be one of the most expensive lots sold. In fact, the current record holder of a single firearm ever sold in an auction house (sold for $1,840,000) is also a Colt Walker known among the collectors as The Danish Sea Captain Walker. The reasons for being so highly sought after are the role of these revolvers in the history of Colt as a company, in American history, in the development of American firearms in general and last but not least, their extreme rarity. There were only 1000 Colt Walkers issued to the Texas Rangers and another 100 sold in the civilian market. Many of the issued revolvers didn't survive to our days. The rarity of this particular model (E Company No. 22) is further increased as it is the only known engraved Colt Walker revolver.
Engraved Colts are nothing uncommon. In fact, Samuel Colt has been commissioning to master engravers even the earliest pre-Paterson guns and like other American arms makers of the era practiced presenting engraved guns to high-ranking military officials and politicians. You can find a factory engraved version of probably any model of revolver Colt ever made, however, there is no engraved Colt Walker known to exist other than this gun. Who exactly executed the engraving and the grip checkering is unknown however the rather simple, early engraving style indicates that this gun was likely engraved by the same New York masters who worked on Colt revolvers predating the Model 1847 Walker.
And that was the list of the top 5 most expensive lots sold at the September 2020 Rock Island Premier Firearms Auction. Overall, the auction realized $18,038,382. The combined sum generated by the top 5 lots of our list is $2,012,500. Thanks for reading and stay tuned for the coverage of premier American gun auctions that will be held in December.

Request product info from top Police Firearm Accessories companies
Thank You!