Product review: The Big Beast from WMD Guns
This lightweight heavyweight checks all the boxes
---
It used to be that using a bolt gun was the only way to deliver precision fire on target, especially when it came to anything bigger than a .223.
I have used, seen and heard of many AR-10 style rifles that have not performed as well as a bolt gun. I have also seen gas guns outshoot bolt guns on the range. So, the argument doesn't hold much weight anymore.
The main advantage in using a gas gun over a bolt gun is the ability to send follow-up shots without moving anything but your trigger finger. You can also transition from sniper overwatch to entry team and not feel limited or have to transition to a pistol because of the slower rate of fire or length and weight that usually come with bolt guns.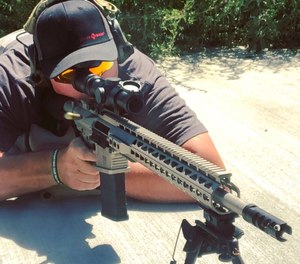 After working with WMD Guns on this SlingStock review, the company graciously offered to send me a rifle to use and abuse. I opted to go with a .308 with an 18 inch 1 in 10 twist barrel, 15-inch handguard, 2 stage trigger finished off with WMD's premier firearms coating. A friend and fellow writer has used and bragged about the revolutionary coating that offers unsurpassed wear protection.  
My plan for this gun is to use it as a team sniper rifle. With that in mind, I wanted to find a scope that offered as much versatility as possible. Sightmark recently released the Citadel 1-10x24 CR1 riflescope with an illuminated reticle. This compact scope gives the user the option to run it like a red dot set on 1 power, but also allows for intel gathering or longer-range shots when cranked up to 10 power.
To marry these two together I used Sightmark's cantilever fixed mounts. This 1-piece mount has quick detach locking levers that sit close to the scope minimizing the chance of them snagging on body armor or uniforms. So far, the mount has held tight and I have run it on a .223 rifle as well as this .308.
First impressions
The rifle arrived secured in a Drago Gear single gun case and in pristine condition. There wasn't a single blemish and you can tell that it was put together by professionals and packed with pride. The rifle shipped with one 10-round PMAG and an instruction manual.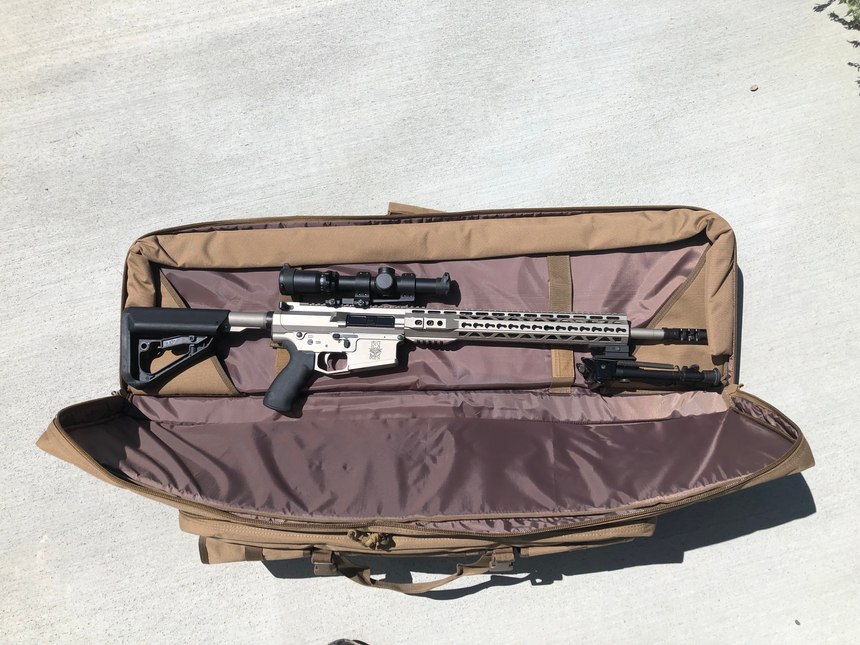 The first thing I noticed was the weight. At 8 lbs it is not heavy for an AR-10. The SA80 I carried in the Royal Marines weighed 12 lbs, so 8 lbs is nothing.
Moving to the front of the rifle, I opted to go with the PWS FSC30 Mod 2 muzzle device that looked like it should work well to dampen the recoil, helping keep the gun on target.
Next is the handguard. The full-length rail on top allows for the addition of night vision, lights, lasers and iron sights. WMD mounted a small Picatinny rail section at the front to mount a bipod.
Moving toward the receiver there is a second rail on the bottom, and quick detach (QD) sling mounts on both sides of the handguard eliminating the need to go out and buy attachments.
Continuing back to the upper and lower receiver where the fit is tight, so none of that wiggle room you find in low-end rifles.
I pulled the bolt carry group (BCG) out of the rifle to get a closer look. Once again the first thing to jump out at me was the weight. This is a light BCG. It appears that any excess material had been removed from the rear of the carrier to shed that weight but keeping that .308 solid feel. 
A big thing that stood out to me was the addition of a button above the magazine release button on the right side of the receiver. At first, I thought it was a bolt locking button. But after trying that a couple of times, that idea went out the window.
My next thought was a bolt release button. So, I locked the bolt to the rear and with one press, got my answer. My eyes lit up with excitement as that bolt slammed home. Having the option to close the bolt left and right-handed is a feature that seems overlooked, even on the WMD guns website.
Figuring out the function of that brought me to my next observation, the recoil assembly. The company fit the rifle with a stout recoil spring. When that bolt goes home, it means it! The rifle shipped with a 2-stage trigger that broke crisply and reset with minimal travel.
I know I already commented on the assembly, but I'm going to comment on it again. The assembly of this rifle was flawless. I did not find any excess lube on springs or pins and not a single scratch on any part of the receiver.  
That was about all I could take. I had to get this gun to the range.
On the range
I mounted a bipod and Sightmark Citadel scope and hit the range. After a quick bore sighting, I sent the first rounds downrange. A couple of shots later I was dialed in.
Shooting both Hornady and Federal 168gr rounds, the rifle performed exactly as promised, with groups comfortably under 1 MOA at 100 yards. The accuracy increased the more I shot, ending with 2 shots around 1/2 an inch at 100 yards.
I closed the distance to around 20 yards and fired controlled pairs to see how well the muzzle device functioned. The PWS FSC30 Mod 2 muzzle device functioned perfectly. As long as I took an aggressive stance, it helped me stay on target allowing for an accurate follow-up shot. I mean this is a .308 we are talking about. Having an aggressive stance and mindset while shooting this beast is a must. Stretching the legs a little out to 500 yards was just plain fun. I was able to easily follow through and watch my impacts. I was able to get first-round hits with follow-up shots fast.
As much as I love to shoot (and I love to shoot!), I have come across guns that I did not enjoy shooting. That is not the case with the WMD Guns' Big Beast. From the solid feel of the gun, strong side bolt release button, smooth operation, rugged pristine finish, flawless functioning and the gun shooting tight groups, there's is not a thing to dislike.  
Whether you are looking for a heavy-hitting hunting platform or something for work, this lightweight heavyweight checks all the boxes.
Train hard, fight harder.

Request product info from top Police Firearms companies
Thank You!