Review: Ruger Commander 1911 brings new life to a classic design
The use of modern materials and manufacturing methods allows Ruger to offer an accurate and reliable pistol at a reasonable price
---
The U.S. Government Model 1911 series handguns have been around now for more than 100 years, entering service prior to World War I and continuing as America's standard military handgun until they were officially replaced by the Beretta M9 about 25 years ago. 
Despite the design's age and replacement by a more modern design, the 1911 continues to have a strong and loyal following in the handgun market. In fact, the market is so strong that nearly everyone seems to be making some variety of a 1911 pistol.
For decades, Colt was the only game in town unless a shooter found a surplus military contract pistol. That slowly started to change in the 1980's with companies like AMT, Auto Ordnance and Randall producing copies. Other companies soon followed and consumers can now choose to purchase a 1911 from Kimber, Wilson Combat, Springfield Armory, STI, Taurus, Remington, and a host of others.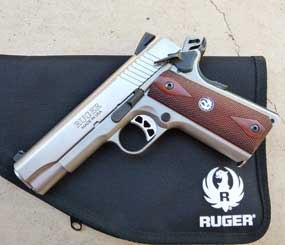 One of the most notable additions comes from Ruger, which is now making a complete, American-made 1911 pistol – the  SR1911. Frames start out as castings while the barrels and slides are machined from bar stock at Ruger's facility in Prescott, Arizona. Many of the small internal parts are outsourced from companies supplying parts to other 1911 manufacturers in the industry. 
Ruger's SR1911 was introduced in 2010 in the traditional five-inch Government Model style and this model has been very well received by the 1911 community. Capitalizing on this success, Ruger has recently introduced the SR1911CMD, a Commander-style 1911 handgun.
True to the Colt Commander Design
The Commander was originally introduced by Colt in the 1950s as a lighter, shorter and easier-to-carry variant of the five inch design. Colt engineers reduced the barrel by three quarters of an inch and also reduced the slide's length of travel slightly. 
While the Commander first appears to be just a shorter Government Model, its frame is somewhat different and frames are not interchangeable between the two models. Some companies, wishing to use a common frame, have built shorter 1911 pistols but these are not true to the Colt Commander design. 
Ruger — quite wisely, in my opinion — has chosen to follow the Colt pattern with their SR1911CMD.
I recently obtained one of Ruger's new "C" variants to accompany my SR1911. The CMD, like the full-size, is constructed using a bar stock barrel and slide with a cast frame. The major parts are stainless steel with some smaller parts like the thumb safety, slide release and grip safety being blued. This combination of blued and stainless parts gives the pistol a nice contrast and it is a clean, simple and attractive handgun. I have always been a fan of the Commander series and Ruger's version does not disappoint.
Both the Government and Commander pistols produced by Ruger have been fine firearms, in my experience. The use of modern materials and manufacturing methods allows Ruger to offer an accurate and reliable pistol at a reasonable price. 
Currently these guns are only available in .45 ACP but that will likely change at some point. 
Not much can be said about the 1911 series that hasn't been said before. But the fact that Ruger's versions have been selling as well as they have in the saturated 1911 market speaks volumes. 
I have only one question: Where is Ruger's aluminum-framed version?