SHOT Show 2013: 4 unique standouts from this year
---
At SHOT 2013, I got to preview and shoot plenty of guns and firearms products, but among them there were three firearms and one firearm product which stood out for their unique qualities.
The firearms were the SIG Sauer P227, the Houlding Precision Firearms Gen II AR-15, and the Springfield Armory XDs. 
The product is the Precision Reflex Carbon Fiber Forearm.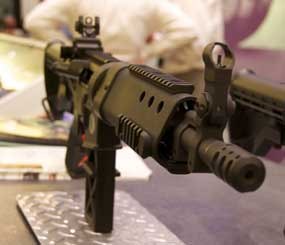 Springfield XDs
The Springfield XDs is a compact handgun with a single stack in the grip. The .45 version has a 5+1 magazine and weighs 21.5 ounces (empty).
The new 9mm holds 7+1 with the flush fitting magazine.
I got a chance to try out the 9mm version, which was not only controllable, it was downright comfortable. 
I have average sized hands and usually mini-compacts tend to leave my little finger dangling in the wind. I tried this one with and without gloves, and the potential for this pistol to be a pocket piece as extra protection on patrol is promising. 
I don't think the Springfield Armory users will be the only users who will favor this pistol. Many law enforcement users like the external grip safety on this Springfield Armory line. This model is a pocket-sized gun with this feature. 
SIG Sauer P227
When I was looking at the new SIG Sauer line, I nearly walked by the P227. It is so similar to the P226 that I thought it was a P226. 
The P227 takes the same slide assembly as the P226.
The difference? It's a double-stack .45 ACP. 
The Sig Sauer P227 is an alloy framed, 14+1 handgun, using the extended magazine.  Since it takes any P220 slide assembly, one can convert it to a Carry, SAS or even Super Match.
Anyone who has not tried a Sig Sauer recently should just hold one. Their latest iteration of the wraparound grips have the texture of a cat's tongue and grab on tenaciously. It's almost unnoticeably slightly thicker, which actually feels better in my hand. This alone is worth the upgrade. 
What's the best feature? Agencies switching to .45 from the P226 may not need to change holsters or magazine pouches. Many holsters fit already. The controls operate and feel the same for an almost seamless transition to a worthy caliber.
Houlding Precision Firearms
Houlding Precision Firearms debuted their new Gen II receivers. I take a personal interest here because I regularly shoot one of their Gen I uppers. It is a fail-proof tack driver. 
Now I want a Gen II carbine.
The Houlding Precision Firearms Gen II upper and lowers are octagonal shaped, giving critical areas a little more "meat."
I know Todd Houlding and I know where he is going with this product. He told me that the octagonal configuration allows for options like a charging handle down the road. The potential for caliber options and piston actions is opened up in this design. 
The Gen II receivers are made of 7075 T6 aluminum. 
The Gen II lower has a funnel magazine well and generous material in stress areas. Houlding uses Cerakote ceramic paint, which has proven itself in hard use environments.  The color options allow the customer to be always right.  I'm already looking at zombie green for mine.
Precision Reflex Incorporated
Finally, Precision Reflex Incorporated, my "go to" company for rock solid scope mounts, displayed their Gen III Delta Carbon Fiber Forearms for AR-15s. 
They also had Round Free Float Forearms at their booth. 
I would never have thought of using carbon fiber but Dave Dunlap told me that this lightweight material is so stable that aiming devices like lasers can be mounted with confidence. 
I'd like to try this product on my carbine to see if there is a dampening effect.  

Request product info from top Police Firearms companies
Thank You!