Sig features new VTAC P320 at SHOT Show 2017
Just about anything Kyle Lamb touches is immediately improved, and this new take on the SIG Sauer P320 is no exception
---
One year ago, Kyle Lamb — the extraordinary firearms and tactics instructor whose training is considered to be among the best available — began working with the SIG Sauer Academy as a consultant working on SIG's training programs. The partnership makes sense in so many ways, not the least of which is the shared ethos of precision and dedication to excellence.
Stemming from that collaboration — and on display at the private range day event hosted by SIG at the Clark County Shooting Complex — was an excellent new version of a classic SIG firearm now bearing the VTAC name.
The VTAC P320 modular pistol with the addition of VTAC high-visibility sights on top was a popular item with those in attendance. The gun also features the X-Carry grip module, and has a beautiful dark earth stainless-steel slide.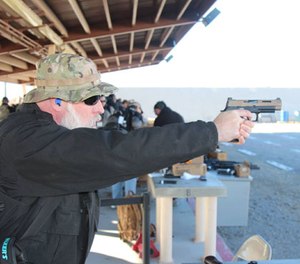 Just about anything Kyle Lamb touches is immediately improved, and this new take on the SIG Sauer P320 is no exception. The VTAC P320 was one of the highlights from the show so far.

Request product info from top Police Firearms companies
Thank You!