Spotlight: KelTec committed to designing, building most innovative firearms in the world
George Kellgren opened the doors to KelTec in 1995, where he continues to push the industry in both innovative manufacturing and product designs
---
Company name: KelTec
Headquarters: Cocoa, Fla.
Signature Product: KSG
Website: https://www.keltecweapons.com
1. Where did your company name originate from?
George Kellgren is a prime example of the American dream come true. Born in Sweden, George migrated to the U.S. in 1979 after designing products for Interdynamics and Husqvarna. Once settled in Florida, he went to work as a design engineer at Intratec, most famous for producing the Tec-9 and later the KG-99. In the late 80s, George founded Grendel in Cocoa, Florida, and really honed his craft, developing some of the most unique designs our industry has ever seen. In 1994, he closed the doors on Grendel, relocated and opened the doors to KelTec in 1995, where he continues to push the industry in both innovative manufacturing and product designs.  
2. What was the inspiration behind starting your company?
At the time KelTec was founded, George and his team wanted to introduce practical products that the firearms industry had not yet seen. The fascination with designing and building the most innovative firearms in the world is the heartbeat of our company. We don't manufacture what everyone else is doing. That innovation is what inspired KelTec and it's what keeps us going.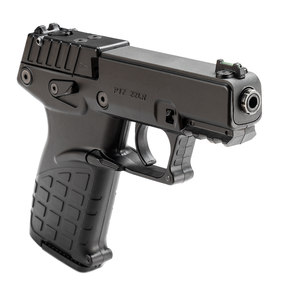 3. What is your signature product and how does it work?
I would have to say the KSG is still our flagship firearm. It's a 12 gauge, pump-action shotgun with two magazine tubes that hold six to seven shells in each, depending on ammunition size. It boasts a compact 26.1 inches in overall length. The KSG's firepower to size ratio is unmatched. With 13 to 15 shells in a shotgun – barely over two feet long – it's quite impressive. We introduced it in 2011 and it's still our No. 1 seller.  
4. Why do you believe your products are essential to the first responder community?
Our lightweight, compact and innovative designs address a lot of shortcomings found in most agency-issued weapons. Where the firepower to weight and size ratio is critical for survivability, we have the right tool for the job. Our compact PF9 is a popular backup pistol for law enforcement and an excellent primary choice for off-duty carry. For our fire service and EMS friends that work for agencies that allow personal protection, the P3AT and P32 are great options due to their compact size and light weight. There are corrections operators around the world that deploy with our KSG due to its versatility and growing success rate in that arena.     
5. What has been the biggest challenge your company has faced?
Rapid expansion and meeting demand. We are essentially a cash business and all of our products are 100% made in Cocoa, Florida. Just 25 years ago, KelTec employed about 15 people. Today, our workforce is at 320 and growing. We manufacture about 200,000 firearms per year at our current rate of production.
6. What makes your company unique?
Innovation. While the firearms market pendulum swings high and low, we have a knack for staying consistent with sales. In fact, we've only seen sales increase, regardless of the political landscape. A large portion of our industry is fighting for market shares while we continue to offer the world something different and practical.  
7. What do your customers like best about you and your products?
Besides our products, I'd have to say our customer service. The interface we have with our customers is very important to us. When you buy a KelTec firearm, you're joining a family. Most companies go out of their way to help customers. We don't see it like that. You're never out of our way as a KelTec owner. We stand behind our products and, more importantly, we're always here to support our customers.  
8. What is the most rewarding part of serving the first responder community?
Serving those that so sacrificially serve our communities is a privilege and an honor. If we can support our first responders in even the smallest way, that means the world to us. We want them to know that there are over 300 KelTec employees that are behind them 100% and we have the utmost respect for the job they do. Visit our website www.keltecweapons.com and look for the H.A.L.O. program. It's just one of the many ways we try to give back.
9. Do you support any charitable organizations within public safety?
We support many charitable causes. However, I don't think the boss wants to pat himself on the back. George is a very generous and humble man. We've probably bragged about him too much as it is.
10. Is there any fun fact or trivia that you'd like to share about you or your company?
We're not beholden to any banks and we don't have a board of directors. KelTec is a one owner company and we're debt free. That's a massive accomplishment in this day and age.
11. What's next for your company? Any upcoming new projects or initiatives?
We will continue to make innovative firearms that help to secure your world.