"Where you from?"
---
Related articles:
P1 Exclusive: No excuses to not carry
Off-duty NY officer hospitalized after stabbing
By Sergeant Tom Burris
Los Angeles Police Department (29 ½ years), Hollenbeck Patrol Division
Special contributor to Police1
As a child growing up, the question, "Where you from?" was the usual conversation starter for me when traveling across the United States my with mom, dad, and younger brother. In the South it sounded more like, "Where y'all from?" Nowadays, that simple question can initiate a lethal assault against the person being asked.
In the city of Los Angeles, there are 400 known street gangs, with 41,000 documented members. In my patrol division alone we have 37 known street gangs, as well as several other gang cliques and "tagger" crews. Across Los Angeles County, you can easily double that number. Across Southern California, triple it.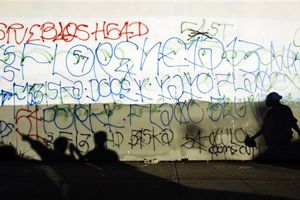 A wall covered with graffiti from rival gangs marks neighborhood border between 'Bloods' and 'Florence 13' gang territory in Los Angeles, but gang members also mark thier territory verbally with the question: "Where you from?" (AP Photo/Kevork Djansezian)
There are chances to cross paths with a gang member(s) in any neighborhood. Gang 'turf' violations have gotten rival gang members (and numerous non-gang members) murdered for simply being in the perceived wrong place at the wrong time.
Victims have been confronted while walking down a public street, and even stopped in traffic while driving. The vast majority of the surviving shooting victims say the same thing, "the suspect(s) walked up (or drove up next to me) and asked "where you from?"" The victim usually answered "nowhere," and shots were fired. Well, it didn't matter what the answer was, they still got shot.
The victims are always male, usually a minority (here in Los Angeles), 15-30 years of age, "buzz" haircut or shaved head, usually wearing a sports team shirt, jersey or hat, and/or generally baggy or lose fitting clothing. That description fits the vast majority of the new officers under my supervision, and literally across the nation. The fashion craze of our current young adult generation coming on the job is a reflection of our country. Just like the "styled" hair, long sideburns, and "porn star" mustaches were when I came on the job…way back when.
Unfortunately, this fashion craze has also been adopted as uniforms by our criminal gang subculture in Los Angeles and across the nation as well. Unknown uniforms "violating" their "turf," will always attract unwanted attention of their ranks. Usually, attracting the wrong kind of attention.
As a tenured patrol sergeant, I see that my new officers look younger and younger with each Academy graduating class. Most seem to have been born when I had 5-10 years on the job. Nonetheless, they are my new officers now. I have the duty to do my utmost to ensure they are ready to handle a variety of threats.
A few months ago I addressed my observations and concerns in front of my officers during our morning roll call. After discussing many of the shootings the officers themselves had recently investigated, the same scenario was repeated each time. We all agreed: Being asked "where you from?" is a definite warning sign.
It's safe to say any gang member or group of gang members who confront you with that question are enforcing their gang's authority over their "hood," and are more than likely armed to carry out their enforcement.
A week or so after my talk in roll call the below press release was made by my Department:
News Release
Tuesday, June 10, 2008

Off-Duty Officer Shoots Suspect after Attack
Los Angeles: An off-duty officer shot and wounded a man after he and a friend were attacked by five gang members on June 8, 2008, in Compton.

The attack happened just before 9:45 p.m. in the 1700 block of Culver Avenue, when five gang members approached Officer Vicente Lopez and his friend walking to a carnival at The Sacred Heart of Jesus Christ Catholic Church. The suspects asked Lopez what gang he was from, and he told them he was not a gang member (emphasis added by author). The suspects aggressively began harassing and threatening the officer and his companion.

To avoid any further confrontation, Lopez lifted up his shirt and exposed his badge and gun and identified himself as a police officer. The gang charged Lopez and his friend and a fight erupted. During the fight, one of the suspects, attempted to wrest the officer's handgun. He was able to gain control of his weapon, fire a round and hit the suspect. After being struck, the suspect ran from the scene.

Lopez detained a second suspect and waited for the arrival of the Los Angeles County Sheriffs to take him into custody. During a follow-up, investigators received reports of a victim being treated for a gunshot wound to his torso at Saint Francis Hospital. The victim turned out to be the suspect the officer shot. He has been identified as 21-year-old Pablo Arroyo, who was subsequently arrested and charged with an assault with a deadly weapon on a police officer.

Lopez suffered a cut to the top of his head and a fracture on his face. He was taken to a local hospital where he was treated and released. He is assigned to the Pacific Division and has been with the Department for one year and 11 months.

Los Angeles County Sheriff's Department will handle the criminal investigation and the Los Angeles Police Department Force Investigation will investigate the officer involved shooting.
Synopsis: young officer, off-duty, confronted by gang members, asked "where you from?," resulting in shooting.
This by no means is the only example of past shootings with this same scenario. Other off-duty officers have been similarly confronted by gang members when they were alone or with family members, parents and their own children.
Incidents of this kind have occurred both on and off-duty. We have had several incidents involving on-duty, plainclothes, vice and narcotics operators. While conducting enforcement/surveillance operations they are suddenly confronted by gang members with the opening line of, "where you from?" The confrontations usually ended in an officer-involved-shooting (OIS) with the first shots fired by the gang members.
Basically, my rule is, the phrase, "Where you from?" is your signal to get your gun in your hand and be prepared to defend yourself (and maybe others) from one or more armed suspects. But, you can only defend yourself, and any family members or friends, if you have your gun with you.
A few years ago, I overheard an officer say "I don't carry my gun off-duty unless I'm coming into the city." While keeping my composure, I asked him for his reasoning. He felt safe while in his city of residence. But, the officer was concerned with his safety only when he was crossing back within our city limits. I don't know if my follow-up discussion with him changed his mind or not.
I find that a handful of personnel believe in the philosophy that being armed off-duty can only get you in trouble. In reality, reckless behavior gets a person in trouble. If you don't do stupid things in stupid places you won't get yourself in trouble.
The personal consequences are tremendous if you go unarmed off-duty. I tell officers to give themselves a fighting chance because the shooter will not give them any chance.
My Department, and others across the nation, have stories of officers, off-duty and unarmed, being confronted by armed suspects. The resulting assault have left them and anyone with them, robbed, kidnapped, raped, stabbed, and/or shot. Sadly some have been murdered. Now add being confronted by armed gang members because of your appearance and fashion choice.
But, I'm sure the un-armed, off-duty officer will feel safe right up until he's asked, "Where you from?"

Request product info from top Police Firearms companies
Thank You!