Why this Florida agency made the switch from .40 caliber to a 9mm Walther
Faster response time, greater accuracy, training support made the choice clear
---
Sponsored by Walther
 
By Warren Wilson for Police1 BrandFocus
Since 1886, Walther has been providing law enforcement and military with firearms. A lot has happened since the old Model 1 .25 caliber pistol. Throughout the 20th century, pistols like the PP (1929), the PPK (1931) and the P-38 (1929) became legendary law enforcement and military sidearms. More recently, the PPS compact carry pistol has been popular for off-duty and concealed carry. However, the Walther duty pistol hasn't really seen the widespread usage in American law enforcement as it does in other parts of the globe. Walther intends to change that.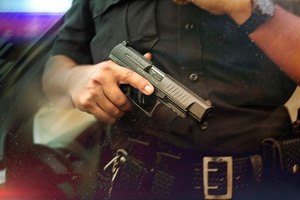 Entering the Market
In January 2019, Walther has entered the law enforcement market with the quiet dignity one would expect from the German company. Walther is not just marketing their products to law enforcement. They are offering equipment-specific training and support. More on that later. There is a misconception about Walther that needs to be cleared up. I've heard people say that Walther is actually made by Smith & Wesson. While it's true that Smith &Wesson, at one time, handled Walther's distribution in the United States, that has not been the case since 2013. Walther has always manufactured their own pistols. 
PPQ M2
The PPQ (Police Pistol Quick Defense) M2 is a great pistol with what may be the very best striker fire trigger right out of the box. The Quick Defense trigger is listed at a modest 5.6 pounds, but the trigger travel is only 0.4 inches and it moves smoothly. The reset is even better and makes follow-up shots quick and easy. The PPQ comes in 5-inch-barrel versions for uniformed duty carry and 4-inch-versions for non-uniformed and off-duty carry. The PPQ has interchangeable backstraps which allows the pistol to truly fit the hand properly. The option allows for a much smaller shooter to handle the pistol well. The M2 has the familiar American style magazine release while the M1 has the more traditionally German paddle release. This was, in my opinion, the final piece of the puzzle which truly makes the PPQ an excellent contender for the American civilian law enforcement duty pistol. This is the gun I believe we will be seeing more and more in law enforcement holsters very soon.
Q5 Match
Bill Blowers of Tap Rack Tactical is a well-respected firearms and tactics instructor. I knew he was a fan of the Walther Q5 Match and had been carrying one for a while. Since the Q5 has been gaining traction with tactical teams lately, I reached out to get his thoughts. He told me he'd been able to exceed everything he was able to do with other pistols. "I love the Q5 and I carry it because I want to…The weight, balance, accuracy, and ergonomics are absolutely great." I think many law enforcement tactical teams would be well-served with this pistol. The Q5 comes ready to for an integrated optics mount. 
Who's buying it?
In late 2019, the Brevard County Sheriff's Office (with more than 900 sworn officers) purchased new 9mm Walther pistols for their department after they'd been carrying another well-respected manufacturer's .40 caliber pistols for quite some time. BCSO Major Alex Herrera told me that BCSO is constantly evaluating their processes, procedures and equipment to ensure they are providing the highest quality service possible. Like so many other departments over the past decade, BCSO made the switch from .40 caliber to 9mm for their duty pistols. Considering ammunition technology improvements as well as improvements in terminal ballistics research, it has become obvious that there is really no benefit with .40 caliber pistols over the 9mm for large law enforcement agencies. There are a lot of gun forum participants who like to argue about the effectiveness of one caliber over another, but take it from the experts at Federal in this video  there is little – if any – real difference in effectiveness from one service caliber to another. What does make a difference in actual law enforcement armed encounters is the ability to shoot quickly and accurately. The 9mm's relatively light perceived recoil allows most cops to shoot better. There can be no doubt about that. Additionally, the substantially lower cost of 9mm ammunition means officers can get more practice and training within the same budget constrictions. Major Herrera stressed that the decision was not strictly fiscally driven, though.
Walther in the House
BCSO conducted an exhaustive and "rugged" test and evaluation of several pistols.  They chose the PPQ for their regular personnel and the Q5 for SWAT. I asked Major Herrera other factors than discussed above made them settle on the Walther line of pistols. Major Herrera said that they tested pistols from several manufacturers. He said the Walther PPQ outperformed all the others in the test and evaluating process such as the trigger reset, accuracy, magazine release and take down catch were just some factors in our decision making. Herrera told me that officers of all skill levels shot better during their testing with the PPQ. "It turns good shooters into great shooters and great shooters into phenomenal shooters," he told me. 
School Guardian Program
BCSO is charged with managing the School Guardian Program in their county which trains and oversees armed guards in many schools. Major Herrera said the Guardian Program volunteers were the first to be issued the PPQ. He said their accuracy, manipulation and handling of the PPQ along with their qualification scores went up across the board and he received many positive comments from participants about the pistols, further confirming that they'd made a good choice.
Service and Training   
I spoke with Major Herrera about his department's experiences with the pistol transition. He said, "Walther has been great to work with." He told me Walther had people on site during the implementation phase of the program and that Walther provided them with equipment-specific training and armorer certification classes. Major Herrera said the department has been more than satisfied with their decision to purchase Walther pistols.
Individual Officer Purchase Program
Walther also has an individual officer purchase program for cops who don't get their duty or off-duty pistols issued to them, which is the majority of cops out there. This program offers some deep discounts of which I will be taking advantage very soon.
Not Just Duty Pistols
In an off-duty/backup role, I believe the PPS M2 really shines. I have quite a bit of experience with the PPS line. I have one that has seen several thousand rounds of trouble-free use, including another hundred this past weekend. The trigger is outstanding and with seven or eight-round magazines available in a package about 1" thick, it's perfect for concealed carry.
A classic returns as a serious contender
It's been a while since law enforcement has looked to Walther for its pistol needs. I believe it's time for that to change. Walther will be a serious competitor in this market and competition is a good thing. I would encourage law enforcement officers and agencies to include Walther pistols in your trials the next time you are looking at duty and off-duty pistols.  
About the author
Warren Wilson is a lieutenant with the Enid Police Department in Oklahoma. He is a former SWAT team leader, current firearms instructor and writer. He has been a full-time law enforcement officer since 1996.

Request information from Walther Arms, Inc.
Thank You!