PRESS RELEASE
Introducing Kahr's New P380
---
use if there is a picture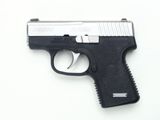 end picture
New for 2008, the Tiny and Powerful model KP3833
PEARL RIVER, NY – Kahr Arms is proud to introduce the latest addition to its award winning line of double action only (DAO) micro-compact pistols.  The new P380 pistol from Kahr, chambered for the .380 ACP caliber, has a 2.5 inch barrel and an overall length of 4.9 inches, with a height of only 3.9 inches.  It weighs in at just under 10 ounces (9.97 to be exact) without a magazine.  The P380 is constructed of a black polymer frame, matte stainless slide, and textured polymer grips.  The P380 features a lock breech, modified Browning type recoil lug, Kahr's six patents including the "safe cam" action found in all Kahr pistols.  These features result in a micro-compact pistol in a fighting caliber with very little felt recoil and quick follow-up shots.  The P380 does not have a magazine disconnect nor does it have "double-strike" capability.  The P380 also boasts "real" sights, featuring drift adjustable, white bar-dot combat sights that dovetail into the slide, with optional night sights available.
use if there is a picture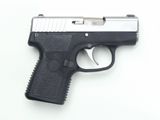 end picture
The quality of the tiny P380 from Kahr is unrivaled when compared to competitive brands.  The barrel on the newest addition to the Kahr Arms collection is a premium Lothar Walther match grade polygonal rifled design, allowing higher muzzle velocities for hollow point ammo than other conventional rifled barrels on competitive brands.  The .75 inch slide is machined from solid 416 stainless bar stock and locks back on the last round.  The P380 model features two high quality 400 series stainless steel 6 round magazines, standard with each gun shipped. In addition, the P380 utilizes an all metal magazine catch in the polymer frame to mate with the stainless steel magazine.   The magazines are USA made and are plasma welded, tumbled to remove burrs, and feature Wolff Gunsprings.
 
The new P380 is substantially smaller than Kahr's popular PM9, and proves itself to be an ideal concealed carry weapon.  Its light weight and small size, combined with Kahr's reputation for reliability, makes it the perfect pocket pistol.  The P380 model is also a strong consideration as a backup gun for law enforcement. The easy to use sights are just an added bonus to this already desired pistol. 
The highly anticipated P380 model has a MSRP of $649.00.  Pick this pistol up now and see how it feels to have the security of a high quality concealed carry or backup gun at your side 24/7.
Check out size comparisons between the new P380 and competitive brands, as well as the P380 as compared to Kahr's PM9 at Kahr's website. Visit
www.kahr.com
to learn more about the KP3833 and other Kahr products, or by contacting Dana Ruff -Blue August at
dana@bluaugust.com