Heart disease is the No. 1 killer of LEOs – here's how to protect yourself
Officers concerned about their health and well-being can now turn to this evaluation program for help
---
Sponsored by Sigma Tactical Wellness
By Courtney Levin, Police1 BrandFocus Staff
Many consider law enforcement to be one of the most dangerous professions in the world, but being killed on the job isn't what ends up taking lives too soon – it's heart disease.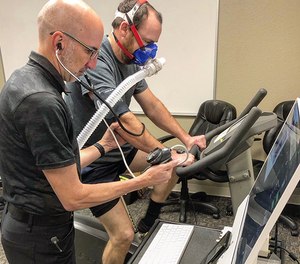 "Police officers are 25 times more likely to die of a heart attack than to be killed by the violent action of a suspect," said Noel March, chief strategy officer at Sigma Tactical Wellness. "Those that have a heart attack, on average, are likely to have that heart attack at age 46. These are sobering numbers."
It's statistics like these that helped shape the mission behind Sigma, a company that partners with law enforcement agencies to evaluate the health and wellness of LEOs. Unlike a traditional physical, Sigma dives deep into each officer's cardiovascular health and performs a series of tests that aid in creating an individualized plan.
Developed by doctors Jonathan Sheinberg and Benjamin Stone, the Sigma evaluation begins with an advanced lipid panel test and non-invasive imaging. A cardiopulmonary exercise stress test using a stationary bike comes next, and once the results are analyzed, a physician-developed diet and exercise program is created.
Sigma was formed in 2016, but the research behind the company's foundation started long before that. Here's how this testing process was conceived and why it's making such a big difference in the law enforcement industry.
THE SIGMA STORY
Dr. Jonathan Sheinberg has been in law enforcement since 1989 and is currently a lieutenant with the Travis County Sheriff's Department in Texas. He's also a board-certified cardiologist and has been working in healthcare for nearly as long.
About a decade ago, he shifted his focus away from treating patients in the ICU and started working on preventative analysis. As a LEO, he wanted to apply his research specifically to cops.
"I started thinking, 'How do I merge these two? How can I use the technology of what we're doing now and use it for this group of people that appears to suffer from this illness at a much higher frequency?'" he said.
At the same time, Benjamin Stone, an Air Force veteran with a Ph.D. in cardiovascular physiology, was researching metabolic disease and how medical intervention can help reduce instances of diabetes, obesity and hypertension. Based in Vail, Colorado, Stone partnered with the Vail PD to further explore his findings.
"We both became aware of each other's work, and we set up a meeting," said Sheinberg. "We were like, 'Holy cow, I have exactly what you're missing, and you have exactly what I'm missing.' We started our company and built it from the ground up."
WHAT THEY LEARNED
Working from a foundation of extensive research, Sheinberg and Stone, along with additional members of the Sigma team, began traveling the country testing law enforcement officers for heart disease.
"So far, we've screened about 6,500 cops in multiple states," said Sheinberg. "What we found is the incidence of what we call pre-clinical, before any symptoms are present, heart disease was present in over 50% of the officers we tested. Early blockages were detected in otherwise fit-appearing men and women as early as age 30."
Identifying and treating blockages before they develop further is critical in maintaining officer wellness. Published data shows that, between the ages of 55 and 60, the chance of a civilian dying from a heart attack is 1.9%, says Sheinberg. In the law enforcement community, it's 56%.
The numbers, unfortunately, don't paint the full picture when it comes to heart disease and cops. Sheinberg says that heart attacks aren't often considered line of duty deaths unless the death occurs during a shift.
"For example, if a cop gets off shift at 6 p.m. and has a heart attack and dies later that night, that death has typically not been counted, even though there is definitive evidence that the initial stages of that heart attack occurred earlier while the officer was actually on duty," he said.
HELPING SAVE LIVES
The real impact of heart disease on law enforcement agencies across the nation is likely much larger than published data represents. For too many departments, these numbers hit close to home.
Over the last ten years, the Rosemount Police Department grieved the loss of Sgt. James O'Leary and Sgt. Bryan Burkhalter. Tragically, both sergeants passed from sudden cardiac arrest within five years following their final shifts.
"It really hits home for us, and that was one of the main driving forces to do this program," said Cassie Witt, community resource officer for Rosemount PD in Minnesota.
Understandably, Rosemount PD took time to consider the health and wellness of their small department.
"We strive to build a culture that takes care of the people who take care of the people. We began putting sincere focus into our officer wellness programs, and that is when Officer Witt emerged as the needed change agent for the department and discovered Sigma Tactical Wellness," said Chief Mike Dahlstrom.
"Sigma has not only supported officers in their own personal wellness journey, but they have helped change the overall culture and approach to wellness in our department for the better," said Witt. "There is no doubt the knowledge and awareness officers attained through the Sigma program will save lives at our department."
GIVING COPS A HEAD START
The stress that officers endure regularly is immense, but it's only one factor that contributes to such high rates of heart disease. By partnering with Sigma and evaluating a range of cardiovascular elements, officers can give themselves a head start on treatment that could potentially save their lives.
"I'm a cardiologist," said Sheinberg. "I practice medicine, but if you ask me what I do for a living, I tell you I'm a police officer. I'm a cop, and we built this for cops because these are our brothers and sisters. Sigma isn't a group of unaffiliated individuals who just want to go out and exploit a market. We are trying to make a difference, and our product changes lives."
Visit Sigma Tactical Wellness for more information.

Request information from Sigma Tactical Wellness
Thank You!