Detective creates iPhone app for police
'This job is all about information and how much we can get,' says creator
---
By Jesse Roman
Salem News
PEABODY, Mass. — Say you find some vulgar graffiti tagged on your house. You grab your smartphone, take a photo and, with the push of a button, alert police — sending them the photo and letting them know precisely where it is by using the phone's GPS.
Welcome to community policing in the 21st century.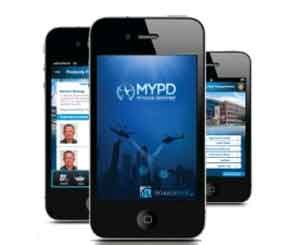 All that will soon be available in Peabody and other communities across the country thanks to a new smartphone application called "My Police Department," developed by Detective Peter Olson of the Peabody Police Department.
The new application makes it easy for citizens to communicate with local police by sending tips, reporting crimes, asking questions, filling out surveys, and giving citizens one-stop access to the department's Twitter and Facebook feeds, special alerts, staff directory and more.
"The easier we can make it for the public to interact with police, the better it will be for us," Olson said.
"Mobile Internet use and app use are going through the roof — everyone is using their phone, almost more than their computers. Just like 10 years ago when every police department was looking at getting a website, the mobile Web is the next step."
Olson, 33, a tech junkie and hobbyist entrepreneur, saw the writing on the wall and has spent his spare time over the last year crafting the application.
Peabody police have been quick to incorporate the newest technology — such as using mobile tablets in police cruisers, using popular online programs like foursquare, QR codes, Twitter, Nixle and more — to see what works and how it can improve policing.
"The new town square is the Internet, it's not Peabody Square anymore," said Peabody police Chief Robert Champagne. "We're very proactive about finding the best ways to use technology. I think we're right up there with the best (police departments) in Massachusetts and in the country."
Initially, the department explored using money from its budget to hire developers to build a Peabody Police smart phone app that could run on both the iPhone and Android platforms. Surprisingly, no comprehensive police app existed, and developing one from scratch would have cost up to $40,000 — too much for the department, especially in this economy.
So Olson got an idea: Why not develop and pay for the program himself, donate it to Peabody, and then market and sell it to other police departments?
"I thought, if we wanted to do this, won't other departments want the app? Why wouldn't they?" he said.
So Olson hit the books, formed his own company, Wired Blue LLC, and hired five freelance developers to help him build the police app. It's finally finished and should be available for free download on the iTunes and Android marketplaces in the next month or so.
Although the application will be free to all citizens, participating police departments will pay a nominal yearly fee based on population, Olson said. The typical price is $600 to $700 per year for a medium-sized city of 25,000 to 75,000 residents.
Olson's app has already garnered a lot of attention, with 25 or so communities either already signed up or interested. That includes several Massachusetts communities, as well as cities and towns in Maine, Texas, California, Georgia and Wisconsin.
"Bridging the gap between our police force and our citizens is a big challenge, and we look at this (app) as an opportunity to do that," said Chelsea police Chief Brian Kyes, who, after seeing a demonstration last month, sent an email about it to police chiefs across the state.
Many police forces, including Chelsea and Peabody, already use programs like Text a Tip, which allow citizens to give police anonymous crime tips through their phones. But those programs cost thousands of dollars per year and are limited in what they can do, Kyes said.
"In terms of cost, this is the most cost effective thing out there right now," he said of Olson's new app.
Olson, the detective turned businessman, isn't accustomed to giving sales pitches, presentations and marketing products, but he's learning on the fly. The 11-year veteran of the Peabody force said he's really not sure what's going to happen when the app goes live next month.
"I'm not sure if I'm going to have 20 departments or 200" that want to sign up, he said.
For Peabody, Champagne said the new app will be a valuable new tool.
"This job is all about information and how much we can get," he said. "The more eyes and ears we have that can provide information, the better it is for the community and the easier it is to keep them safe."

Reprinted with permission of Salem News