Retired cop invents super strength door lock
A Calif. cop stuck at home due to injury created a product that would give him peace of mind
---
When former L.A. County Sheriff's Office police officer Robert Dieguez was stuck at home to due to an injury, he came up with the Strike Plate Lock, a new door lock that could provide better protection from intruders.
In March 2014, Dieguez was confined to the bottom floor of his home for a back injury and depended on a walker to move about. He challenged himself to get to the front door each day for exercise, and started thinking about how vulnerable he was to intruders given his debilitating injury.
The mental planning for a super strength lock for his front door was set in motion.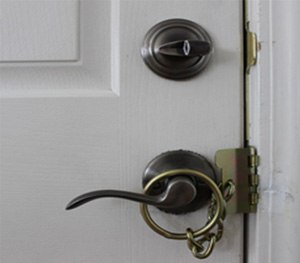 "I bought some flip locks and a strike plate at the store and basically glued them together to see if the concept I had in mind worked," Dieguez said. "Then I took my idea to a 3D plastic molder and had a plan drawn up."
Dieguez searched the U.S. for a company to do metal prototyping for his idea, and found the answer right in his own backyard: A company in Valencia, Calif., agreed to create his first prototypes.
The model started as a strike plate and hook, then the hook evolved into a steal ring.
The current lock is made of 60 gauge cold steal and is installed by replacing a door's existing strike plate with the Strike Plate Lock.
"A regular flip lock attaches to your door frame by screwing two holes into the frame, then the door chain needs four screws in the door itself to hold the slider, and two more go into your wall or door frame – that's eight holes you've created altogether," "My strike plate takes place of an existing strike plate so there's no need to create any new holes," Dieguez said.
Installing the Strike Plate lock requires only two, 2 ½-inch screws, which are included with the order of the lock, and a Phillips screwdriver.  Dieguez said installation take60 seconds.   
To test the strength of his new invention, Dieguez built a door and frame on the back porch of his home, attached the Strike Plate Lock and swung a 90-pound punching bag repeatedly at the door. The video below shows Dieguez's relentless testing.
To spread the word about his product and raise funds to start mass-producing the lock, Dieguez established a Kickstarter profile with a goal of $20,000 and even tried out to be on the entrepreneur competition show Shark Tank.
The locks are available for $15 each on strikeplatelock.com.