IACP to hold virtual showcase in the midst of Covid-19
---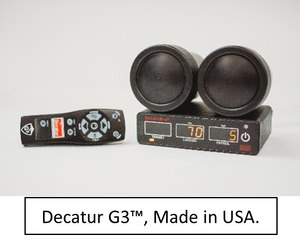 We are a couple of days away from IACP 2020 (Oct 20th – 23rd), the main annual Law Enforcement event in North America. Due to COVID-19 this year's IACP will be in a virtual format. The Decatur Electronics team is looking forward to engaging with all public safety professional and introduce our made in USA speed enforcement and traffic calming products.
Decatur Electronics has been working to save lives through speed enforcement since it was founded in 1955 in Decatur, Illinois. Today we are part of the D&K Engineering family. With over 500 employees globally, 3 locations in USA and international presence in Singapore, Malaysia and Spain, D&K Engineering has been involved in 700+ product realization journeys from startups to Fortune 500 companies. Its employees have been involved in over 500 patent originations.
There's an old saying that goes, "the sum of the parts is greater than the individual pieces", and just that, happened in 2018 when both organizations merged and formed a powerful alliance between two market drivers.
Other products in the IACP Showcase: Decatur Electronics is excited to share information of it is latest moving police radar, The G3™, offering modern traffic radar features such as Ka-band directional antenna, a versatile detachable computer/display unit, and an easy-to-use Infrared (IR) remote control. The G3™ provides instant target acquisition and speed lock as well as more precise tracking and speed measurement.
Hand-held radar, SCOUT and GHD, with more than 15,000 deployed units
Speed Trailers, OnSite 200MX, 300MX, LPR compatible
Speed Signs, OnSite 75MX
Vehicle Interface Portal (VIP2) enhances the radar's patrol speed acquisition
Join us next week at #IACP2020! Check out our virtual showcase to find out more information about our products and schedule a time to talk with one of our representatives. Decatur Electronics, 65 years saving lives through speed enforcement!
For further information, please follow this link https://www.decaturelectronics.com/ or contact us at (800) 428-4315 / info@decaturelectronics.com