PRESS RELEASE
Orange County sheriff's department expands threat assessment capabilities and officer safety with TVU networks live video technology
---
Live Video Distribution to Air Support Bureau and Individualized Monitoring Creates Greater Situational Awareness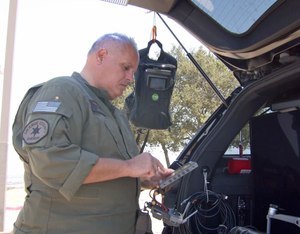 MOUNTAIN VIEW, Calif. – TVU Networks, the market and technology leader in cloud and IP-based live video solutions, today announced the Air Support Bureau of California's Orange County Sheriff's Department is using the TVU One mobile transmitter with its aerial reconnaissance fleet to provide real-time decision-making during incidents.
The Air Support Bureau oversees the sheriff's Unmanned Aerial Vehicle (UAV) program, which was launched in 2019. Orange County has more than 20 pilots to operate its fleet of UAVs. However, before adopting TVU's solutions earlier this year, command staff would have to crowd around the UAV pilot and watch the small monitor on the drone controller during a live incident to review video.
"They don't get the same level of situational awareness as if they had their own view," explained Jer Kahala, chief UAV pilot, OCSD. "We were not able to provide situational awareness to members of our department on an active case, because we didn't have a way of distributing the video."
TVU transmits live video with sub-second latency to the Air Support Bureau. "It gives us that ability to have multiple people all watching the same incident as it happens," Kahala said. "It's a very, very efficient way of dealing with tactical situations – you turn it on, and it works."
The OCSD can also stream live video to the mobile data terminals (MDCs) in department vehicles. "This has a huge impact on officer safety," Kahala noted, "by allowing us to show responding officers and deputies the scene as it's unfolding to see where the threats may be."
Now in its sixth generation, the TVU One mobile transmitter aggregates all available data connections, including cellular, 5G, WiFi, Ethernet, satellite and others with sub-second latency to transmit live, broadcast-quality video from any location. It features, the most advanced video compression standard, and TVU's patented Inverse StatMux Plus (IS+) transmission algorithm to provide superior, reliable video with less overhead. TVU One is also capable of providing FirstNet and Frontline services. With TVU Overwatch, first responders can securely monitor live feeds remotely on a smart device or laptop. Live video can be delivered to specified users with sub-second latency, providing organizations with real-time situational awareness.
To learn more about TVU's solutions for public safety or to reach us with your questions, visit us at www.tvunetworks.com/public-safety/.
About TVU Networks®
TVU Networks is a global organization with more than 3,000 customers using its IP and cloud-based workflow solutions across multiple industries including news, entertainment media, sports, corporate, streaming, houses of worship and government. Through the use of AI and automation driven technology, TVU helps broadcasters realize an efficient metadata and story-centric workflow through its TVU MediaMind platform for live video content acquisition, indexing, production, distribution and management. The company has been on the forefront of developing the tools needed to revolutionize and streamline the Media Supply Chain. TVU is a critical part of the operations of many major media companies worldwide and is a Technology and Engineering Emmy® Award winner.
Request more info from Orange County Sheriff's Department
Thank You!