PRESS RELEASE
LensPen Optics cleaning technology now available for law enforcement: Tactical, forensics, body cams, dash cams
---
When clean optics are crucial, LensPen is a must for keeping lenses and eyepieces clean and images sharp. The molecular carbon cleaning technology soldiers, photographers and hunters have counted on for more than 20 years is now available in a new line of optics cleaners specially designed for law enforcement. "The United States military counts on LensPen to keep their optics clean," said Ryan Keating, Vice President of Sales for LensPen. "The Defense Logistics Agency regularly sources the Original LensPen for scope cleaning, and the U.S. Marine Corps issues a LensPen with every Trijicon ACOG riflescope.
"Professional photographers and hunters also trust LensPen products. Our cleaning technology is endorsed by Nikon, Leupold, Schmidt & Bender and many other top camera, binocular and scope manufacturers who co-brand with LensPen because they know LensPen is safe for lens coatings and works in the toughest environments."
LensPen is introducing its new program that makes LensPen products available to law enforcement professionals. Use LensPen to clean scopes and night vision goggles of tactical units, lenses on forensic photographers' cameras, even the lenses on dashboard and body cameras.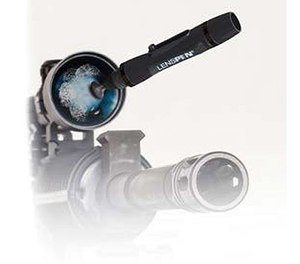 LensPen cleans with a simple two-step process. First, use the retractable natural brush at one end to remove any loose dust or dirt. Next, twist the cap off the other end and use the cleaning tip to remove any dirt, grease or fingerprints from the lens. Every time you twist the cap back on, the carbon in the cleaning tip is recharged. Each will provide more than 500 cleanings.
For more information on LensPen products and special pricing for law enforcement, go to www.lenspen.com/lawenforcement.
Watch LensPen clean here.
LensPen will be introducing their new Law Enforcement products at IACP 2016 in San Diego, October 15-18.
Request more info from LensPen
Thank You!