COVID-19 response: South Carolina sheriff increasing agency's visibility
The Richland County Sheriff's Department is fielding approximately 120 additional personnel not usually on the street
---
COLUMBIA, S.C. – While America is upended by the coronavirus pandemic, it's business as usual for law enforcement agencies. The impact of COVID-19 has resulted in a ramping up of operations for the 800-plus deputies at the Richland County Sheriff's Department (RCSD) in South Carolina.
"This for us is 'All hands on deck,'" said Richland County Sheriff Leon Lott. "This all-hands directive includes the command staff and all others who carry a weapon."
According to Lott, RCSD is fielding approximately 120 additional personnel not normally on the street.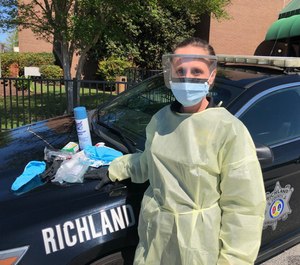 "Schools are closed, so that number includes 97 school resource officers," Lott said. "The court system is also closed, so those deputies normally working the courthouse are on the street. Command staff who are typically doing office administrative work are also out working in the community."
Lott wants to achieve higher than normal visibility, and not only for the short run.
"This coronavirus threat to us is not a wind-sprint, but a marathon," said Lott. "It's going to take time, and so the community needs to see us standing stronger than ever. We're not going to allow criminals to take advantage of this situation. The average citizen is always going to do what rightly needs to be done to take care of themselves and their neighbors, whereas, criminals are going to try to take advantage of situations like this."
Lott added, "We can't simply put a closed sign on the door and tell deputies to work from home. This is a war, and the soldiers on the front lines are our deputies."
Last week, the Sheriff met with Richland County Council for approval on overtime pay for deputies and any new and necessary equipment going forward.
"So far there have been no shortages of anything," Lott said. "And I don't perceive there will be. All of our deputies have personal protective equipment. The additions we have received have been masks, gloves and hand sanitizer."
All of RCSD's vehicles have been commercially cleaned and sanitized. "We contracted with a company that sanitized all of our vehicles and we're going to do that for all of our facilities and office spaces. I have a two-fold responsibility: To protect the citizens of Richland County and to protect my deputies," said Lott.
How is RCSD coordinating efforts with fire and EMS? "Dispatchers have a list of questions they are asking on each call so that they may determine how best to respond," said Lott. "And we are all sharing information and working together."
Tuesday afternoon, South Carolina Governor Henry McMaster closed the state to only essential businesses and he continued to urge people to stay at home, although no shelter-in-place orders have been issued yet. Lott says even if such an order were issued, "arrests would probably not be the answer. We wouldn't want to criminalize shelter-in-place. That would be the very last resort. The best thing to do is talk to people and encourage them to do what they're asked to do. Most will. Most do. Most in Richland County are already following all the recommendations."
In addition to increased officer visibility, RCSD is continuously messaging the public through traditional media (print and broadcast), as well as through the department's various social media platforms.
According to Lott, RCSD's primary message is: "Regardless of how long this situation lasts, we are open for business. We are stronger than ever. And we are going to protect you."    
Lott also commands the S.C. State Guard, an all-volunteer state defense force organized under the S.C. Military Department, which also oversees the S.C. Army National Guard and the S.C. Air National Guard.
"As the governor and the National Guard need assistance, the S.C. State Guard is fully prepared with engineers, medical teams and others," said Lott, adding, "This pandemic situation is going to get better. We all know this. Yes, I know people are anxious and afraid. But there is light at the end of this tunnel. Daily activities may change for the time – maybe even for the better – but this virus is not going to cripple America and the world where we never recover. People need to remember that."