Chattanooga PD using Genetec's Security Center for camera registry program
With a cloud-based video monitoring service, businesses can choose to share security video with police during investigations
---
By Police1 Staff 
MONTRÉAL, Canada — The City of Chattanooga has established a camera registry program for businesses using Security Center from Genetec Inc., according to a release from Genetec earlier this month.  
Chattanooga's Dragonfly Community Connect – named because of a dragonfly's 360 degrees of vision – is a public-private policing initiative that aims to enhance public safety in the community.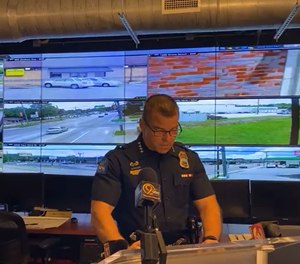 Now, when someone calls Chattanooga Police to report a crime, the Real-Time Intelligence Center (RTIC) can check with participating businesses in the area to see if they can share video from their security cameras, according to the release. 
Participation is voluntary, so businesses can choose to send security video to police upon request. With Stratocast, Genetec's cloud-based video monitoring service, officers can either monitor the live video or review a recording. Business owners can also use Stratocast to keep an eye on their business from a mobile device, the release says. 
"Having the capability to view live video allows our investigators to quickly send images of suspects, their vehicles and other crucial information to officers who are responding to calls," said retired Chattanooga Police Chief David Roddy in a statement. "It dramatically reduces the time officers spend requesting, accessing or obtaining video evidence relative to the event or crime to which they are responding."  
RELATED: How a camera registry program can benefit both law enforcement and the community

Request product info from top Police Cameras companies
Thank You!