PRESS RELEASE
Intelligent Computer Solutions Releases the New Generation Rapid Image Forensic Duplicators
---
The New Generation of Multi-Drive Forensic Duplicators delivers High Speed Acquisition speeds; multiple drive interface support and flexible High Speed Image Upload capabilities
CHATSWORTH, Calif. - Intelligent Computer Solutions (ICS), the innovators of the High Speed, Hard Drive Forensic and IT Image MASSter™ Data Duplication product lines, announces the release of the Rapid Image™ Forensic Line of Hard Drive Duplicators.
The Rapid Image Forensic Line of Data Acquisition stations are designed to facilitate the High Volume of Forensic Data Acquisition projects required by today's Forensic Lab Environment. Investigators can simultaneously capture up to 10 Suspect drives to 10 individual Evidence drives with minimal effect on performance. The units also support sequentially capturing and uploading data from up to 20 Suspect drives to a Storage Area Network for archiving, sharing or future analysis. The unit can utilize either one of the two 1Gbit Ethernet connections or the optional 10GbitEthernet NIC card for uploading speeds of up to 4.7GB/min. The process of Uploading data can be automated without the need of starting multiple acquisition operations. The unit is designed with today's advanced drive controller technology which can take advantage of drives which support 6Gbps transfer rates.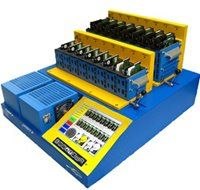 The Rapid Image High Speed Forensic Duplicators feature E01 and LinuxDD average capture transfer rates of 5.0 GB/min when capturing 10 Suspect drives simultaneously. Additionally, the unit has been validated to reach up to 13 GB/min while capturing Solid State Devices. The new line of Rapid Image Forensic Hard Drive Duplicators include native support for SAS, SATA, USB 2.0, USB 3.0 drives. Optional adapters are available to support IDE, Micro SATA, 2.5", 1.8" IDE Notebook Drives, ZIF drives, and Flash Media.
"One of the challenges faced today by many Computer Forensic Investigators is to quickly acquire and store data from a high quantity of 'Suspect Drives,'" states Ezra Kohavi, President of ICS. "The Rapid Image™ Forensic Duplicators assists in automating and facilitating these tasks by allowing users to simultaneously acquire and upload up to 20 drive images to a Network Storage location at High Speeds in a Forensic environment."
Additional features include Cable-Free, Drive Caddy technology, Windows® 7 Embedded Operating System, multiple Capture Formats including "mirror," "segmented" LinuxDD and E01 Encase® Capture formats which allow storing one or multiple Suspect drive images on a single "Target" drive. In addition, multiple drives can be wiped using the DoD, User Defined or Secure Erase methods.
About Intelligent Computer Solutions
ICS is a pioneer in disk drive duplication, having first introduced this technology to the world in 1991, in a US patented device. For over twenty years ICS has focused on providing cutting-edge solutions to the Computer Hardware Manufacturers, large IT Organizations, and small IT Departments around the world. ICS also supports state, local and federal government, Law Enforcement communities and the growing private Digital Forensics Investigation sector through the development of leading edge Digital Forensics Hardware and Software Technology used in some of the most complex digital forensics investigations today. ICS product line includes: Handheld IT and Forensic Duplicators, Industrial Multi-Drive Duplicators, Portable Forensic Workstations, Hard Drive Sanitization Units, Write Protection devices and more. Learn more about ICS at www.ics-iq.com.