PRESS RELEASE
Crisis Management System for Schools & Public Safety
---
Oakland, Calif. - Capture Technologies has partnered with Sielox LLC to become their western state representative and to install their new, (patent pending) solution for K-12 for response in emergency situations.  The new Sielox Class Crisis Lockdown Alert Status System provides real-time classroom status, updates and notification to school administrators and first responders through the use of graphical maps, email and text messaging.  It will assist education and public safety officials in making split-second decisions. This scalable, flexible solution for crisis management provides real-time visibility when every second counts and protects what we value most.
A dynamic graphical map provides real-time status representing five color conditions:
- Green Block means Safe/Secure
- Yellow Block means Unaccounted Individual
- Blue Block means Medical Emergency
- Orange Block means Classroom Disturbance
- Red Block is a Crisis Condition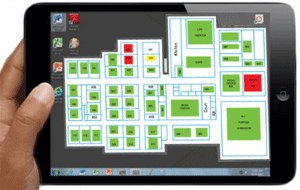 Here's how it works:
- Educators send color-coded alerts to administrators and first responders through networked devices.  
- Law enforcement and first responders can view dynamic floor plans in real-time, with accurate updates automatically displayed on their mobile phone, tablet or patrol car laptop.
Features include:
- Email and text alerts to authorities and responders
- Two-way chat between classroom and responders
- Interface to paging and mass notification systems via AC-1700 outputs to trigger preprogrammed announcements and messages.
Ask us  about what this product can do for your company, school or organization. 
SafeSchools
As safety and security becomes more and more of a high-risk concern for colleges and universities and K-12, educators are even more challenged with providing a safe and secure environment for students and facility alike. Prevention and deterrence are important factors in initiating a proactive approach in providing a more secure campus or educational facility.