PRESS RELEASE
Introducing OpenEye's New Indoor Security Camera
---
Oakland, Calif. - Security doesn't have to be difficult. OpenEye keeps making it easy, with their new CM-M806 IP HD PTZ indoor camera. Unlike other security cameras, it's lightweight, and easy to install to make securing your facility as easy as possible.
The CM-M806 is ideal for pole mount installations and drop ceiling installations. It also provides clear 1080 images that use Sony's wide dynamic range sensors. It's also easy to integrate with existing security camera systems.
Other features include: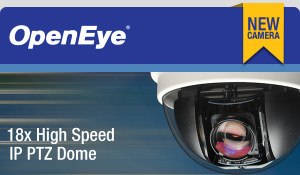 - 18x Zoom
- DDS – which increases the amount of light entering the camera
- High Definition
- Compliant with ONVIF and VMS solutions
OpenEye is the leading provider of video security solutions, and Capture Technologies is a proud provider of their products. Capture carries both indoor and outdoor security camera solutions. With our options, you'll be able to see crystal clear images of your footage. Whether its day or night, you can rely on Capture Technologies' products to capture the action every single time.
With new advances in security technology, there are limitless possibilities as to what you can capture. Whether you're looking o keep buildings secure, prevent vandalism and crime, or to simply keep an eye on staff members, Capture Technologies has a solution for you.
Call Capture Technologies for more information on OpenEye, or other video security products. We are dedicated to keeping your community safe and secure.