PRESS RELEASE
LexisNexis Risk Solutions launches crime alerts mobile application for Apple Watch and iPhone
---
Free app provides citizens access to local crime data and sex offender registry information, enhances law enforcement data transparency
SAN DIEGO and WASHINGTON, DC, — There is little more important to the individual than his or her personal safety unless it is knowing their loved ones are safe. People want to know about the crime in their neighborhoods, near their schools or workplaces and where they travel. While law enforcement is charged with protecting the public's safety, it also is responsible for keeping the public informed about how it serves its citizens, including where and how crime is occurring. LexisNexis® Risk Solutions today announced that it is launching a new solution that helps to bridge the data gap between law enforcement and citizens: the LexisNexis® Crime Alerts Mobile – a free consumer-facing mobile application that encompasses crime-alerting capability on Apple® mobile devices.
The LexisNexis Crime Alerts Mobile app is available now. By downloading the LexisNexis Crime Alerts Mobile app on an iPhone® or Apple Watch®, individuals are notified of criminal events around a designated address or geolocation, new crime events that have occurred in the last 24 hours and criminal events that occur while the individual is on the move.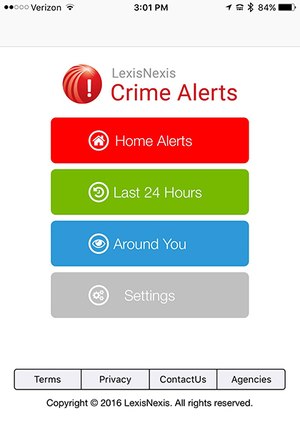 "LexisNexis Risk Solutions has created this app as a public service to citizens, so they may access this critical information and as a service to law enforcement, so they may more effectively share data with their communities," said Haywood Talcove, CEO, LexisNexis Risk Solutions. "This new app is an exciting innovation which we believe will make a real difference in public safety and can play a role in helping law enforcement agencies across the country to help foster public trust within their communities."
iPhone and Apple Watch users may download the app from the App Store® by searching for "LexisNexis Crime Alerts." Desktop users may download the app via the iTunes Store®.
See LexisNexis Risk Solutions at Booth 2125 at the IACP 2016 Annual Conference.
About LexisNexis Risk Solutions
LexisNexis Risk Solutions is a leader in providing essential information that helps customers across industries and government predict, assess and manage risk. Combining cutting-edge technology, unique data and advanced analytics, LexisNexis Risk Solutions provides products and services that address evolving client needs in the risk sector while upholding the highest standards of security and privacy. LexisNexis Risk Solutions is part of RELX Group plc, a world-leading provider of information and analytics for professional and business customers across industries. http://www.lexisnexis.com/risk/

Request more info from LexisNexis Risk Solutions
Thank You!