Calif. police laud added power of new PepperBall gun
---
Less lethal weapon used recent arrest

By Mark Arner
San Diego Union-Tribune 

NATIONAL CITY, Calif. — The small, busy National City Police Department was the first in the nation to use a new, more powerful PepperBall weapon to help keep the peace in 2007.

The weapon, which delivers twice the punch of previous models, worked like a charm Nov. 21 during the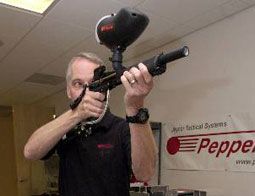 (AP Photo/Denis Poroy)
arrest of a suspected car thief, officials said.
A 27-year-old documented gang member had jumped from a stolen car after a high-speed chase. He surrendered after a round was fired at him on East Seventh Street, just east of Interstate 805, said National City police Sgt. Mike Harlan.
The SA-4 PepperBall system was publicly unveiled in July. It has been sold to more than 100 law enforcement agencies nationwide, including the southwest division of the U.S. Border Patrol in San Diego and the New York City Police Department, said Chris Andrews, marketing director for the San Diego-based PepperBall Tech-nologies Inc.
The red-and-black weapon looks like a fat, stubby handgun and is classified among several "less-lethal" alternatives to conventional firearms. It is also lighter and smaller than the 3-foot-long rifles that the PepperBall firm has sold worldwide for a decade.
Each of the weapons sells for less $400, Andrews said. A magazine with four pepper projectiles costs about $25.
Harlan and Officer Bill Phillips, a firearms instructor for the department's 91 sworn officers, praised the weapon after a demonstration at police headquarters last week.
"It's going to save lives," Harlan said.
Because the SA-4 PepperBall launcher is much smaller than earlier models, it is more likely to be carried by officers and used in the often unpredictable situations when an officer might need to reach for a weapon, Harlan said.
When people are struck with the SA-4 launcher's projectile, they feel an impact similar to being hit with a baseball bat, Andrews said. It also releases 3 grams of a hot pepper powder that spreads into roughly a 100-foot area, he said.
"It's gonna hurt," Andrews said. "And the pepper powder is going to cause closing of the eyes and tearing, and coughing and burning of the lungs."
On Nov. 21, Cpl. Jeff Meeks fired the SA-4 PepperBall launcher at the fleeing suspected car thief instead of releasing a police dog, because there were several people nearby, police said.
"A new PepperBall weapon was deployed and the suspect went to the ground and was arrested," a report by Sgt. Greg Seward states. "There were no injuries and no damage to any vehicles."
PepperBall literature warns that the SA-4 launcher may not work on heavily clothed or padded people.
Andrews said no deaths or serious injuries have been caused by the more than 10 million PepperBall rounds that have been fired during the past decade.
"We're not for every situation," he said. "But it's an extremely effective tool to bring suspects into custody."
[][][]
SA-4 PEPPERBALL SYSTEM
Launcher
Size:
6 inches by 6 inches
Weight:
less than 14 ounces, loaded with battery
Material:
rugged polymer, impact resistant, water resistant
Projectile
Type:
uses only ImpactPlus PepperBall projectiles
Weight:
5.7 grams
Composition of pepper projectiles:
3 grams of capsaicin II powder (ingredient in Tabasco sauce)
Laser:
red, operated by the safety
Target accuracy range:
30 feet
Velocity:
320 feet per second on average at muzzle

Copyright 2008 The San Diego Union-Tribune


Request product info from top Police Less Lethal companies
Thank You!