PRESS RELEASE
Overcoming Three Top Aerosol Projector Issues — Why Police Departments Worldwide Trust The Reliable Stopping Power Of Security Equipment Corporation's Sabre Aerosol Projectors
---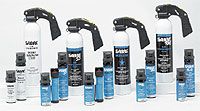 Studies have shown that aerosol projectors sprays used by law enforcement can have failure rates as high as 30-percent — not an encouraging statistic when lives are at stake. That's why Security Equipment Corporation, a leading innovator in nonlethal deterrents serving law enforcement and civilian needs for more than 30 years, has dedicated itself to developing the most powerful and reliable products available. Police departments and government agencies around the globe have responded, making Security Equipment Corporation's SABRE® Line of aerosol projectors as their equipment of choice for protecting their officers on the front lines.
Security Equipment Corporation's line of SABRE products are being selected in growing numbers by top law enforcement agencies because they are formulated, manufactured and tested to overcome the three major causes of failure:
Low Heat — Many capsaicinoid-based "pepper spray" products on the market simply don't produce enough heat to incapacitate aggressive individuals — especially those exhibiting signs of drug use, intoxication or mental instability. SABRE products are formulated and rigorously tested for consistent and dependable performance. Products come in a variety of potent formulas designed for specific applications. SABRE Advanced (Level III) combines red pepper, CS tear gas and an invisible ultraviolet dye to aid in suspect identification. SABRE Red (Level III) delivers a 10% Oleoresin Capsicum (OC) formula measuring 1.33% Major Capsaicinoids for the strongest single ingredient pepper spray available, also featuring a UV dye for suspect identification. SABRE 5.0 (Level II) uses a 5% Oleoresin Capsicum formula with 0.67% Major Capsaicinoids — still more than four times stronger than the 0.18% Major Capsaicinoids formula used by many law enforcement agencies.
Inconsistent Batches — Inconsistency from batch to batch is a major contributor to failure in the field. A potential life-and-death situation is not the time to discover whether your canister contains a "good batch" or a "bad batch." Security Equipment Corporation is the only aerosol projectors manufacturer in the world with its own High Performance Liquid Chromatography (HPLC) laboratory. These advanced testing capabilities and the company's stringent quality control measures assure that each batch is guaranteed to provide consistent, stable heat levels. This translates to complete user confidence whenever lives and public safety is on the line.
Failure to Spray The Target Zone — These products are often deployed under the most challenging conditions, such as when struggling with an attacker. This makes it difficult to get good acquisition on the target areas — the attacker's eyes, nose and mouth. In addition, some canisters only operate correctly when used right-side-up. Security Equipment Corporation designs its canisters to deliver a strong, accurate spray pattern (ballistic stream, cone or foam) to best suit the tactical situation. SABRE aerosol projectors are even designed to spray effectively when the canister is inverted, making acquisition easier when a suspect ducks or attempts to block spray. To further ensure reliable performance in real-life situations, each canister is test-fired before leaving the factory.
These are just some of the reasons that police forces and corrections agencies have turned in increasing numbers to the advanced self defense and tactical sprays from Security Equipment Corporation. With public and personal safety at stake, officers want the most potent, consistent formulas that have been lab tested to perform when failure is not option.
In just the last year, Security Equipment Corporations SABRE® aerosol projectors have been chosen by the Atlanta Police Department, Dallas Police Department, NYC Department of Corrections/Riker's Island, U.S. Marshall's Office, and the U.S. Customs Border Patrol. SABRE's powerful reputation has also reached around the world; this year has also seen the Royal Canadian Mounted Police, Ministry of the Interior for Egypt, the Israeli Ministry of Defense, and police departments in Finland, Switzerland, Norway and Sweden select SABRE as their aerosol projectors of choice. These names add to a fast-growing roster of regional, national, and international law enforcement agencies that have come to depend on the power and reliable performance of SABRE for the safety of their officers.
Security Equipment Corporation — an ISO 9001: 2000 Certified manufacturer — encourages law enforcement agencies to verify all product and performance claims made about its products. Interested parties can request independent laboratory reports or learn more about the SABRE line of aerosol projectors by contacting Security Equipment Corporation at 330 Sun Valley Circle, Fenton, MO 63026 • (800) 325-9568 • Or visit www.sabre-sabrered.com • Making Grown Men Cry Since 1975!
Editor's Note: For hi-res digital images and releases, please visit our online Press Room at www.bearemg.com.

Request more info from SABRE-Security Equipment Corp.
Thank You!