San Francisco TASER measure backed by officers fails to pass
The measure would have given San Francisco officers more latitude in when they can TASER suspects
---
By Police1 Staff
SAN FRANCISCO — A measure that would have given San Francisco officers more latitude in when they can TASER suspects was defeated.
KGO-TV reports that more than 60 percent of voters voted no on the measure, known as Proposition H, on Tuesday. The measure would have imposed less restrictive guidelines for when officers can use TASERs, according to the San Francisco Chronicle.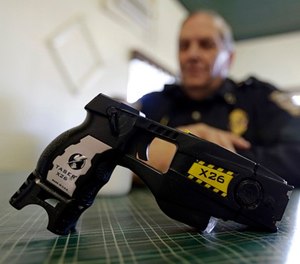 The Police Commission approved the devices in November 2017 and adopted a policy regulating their use in March. Under the San Francisco Police Department's current policy, officers can only use TASERs on suspects who are "violently resisting." 
The policy also states that TASERs can be used when a person is "armed with a weapon other than a firearm, such as an edged weapon or blunt object" and is injuring or intends to injure another person.
Prop. H called for lowering the standard to when a suspect is "actively resisting," and allow officers to use them in non-violent situations, according to KTVU. The measure would have also allowed the department to request funding for the TASERs within 45 days of it being enacted.
Tony Montoya, president of San Francisco's police union, said he's "disappointed" by the result but will work with the Police Commission on implementing the rules for TASERs.
"We want a policy out there that's going to be smart and effective," he said.
The SFPD was one of the last major departments to get TASERs. Officers are expected to receive the tools by the end of the year.

Request product info from top Police TASER companies
Thank You!