PRESS RELEASE
Remote GeoSystems and North Shore Rescue announce successful deployment of geoDVR and FLIR gimbal for SAR Missions with Talon Helicopters, LineVision Software Donation
---
FORT COLLINS, Colo. — Remote GeoSystems, North Shore Rescue and Talon Helicopters are pleased to announce the successful deployment of a geoDVR™ Gen2 with a FLIR daylight EO/IR gyro-stabilized video camera on an Airbus TwinStar (AS355) for Search and Rescue (SAR) missions.
The geoDVR Gen2 is an advanced mil-spec DVR for recording multiple channels of HD & Standard-Definition geospatial full motion video in airborne and rugged vehicle environments. The geoDVR's ability to reliably record HD color and IR, along with continuous GPS data and Live Moving Maps, make it ideally suited for professional airborne search & rescue, law enforcement and infrastructure inspection applications that utilize multi-sensor gimbal video cameras.
"Remote Geo has a reputation for building one of the industry's most dependable and user-friendly airborne geospatial video recorders, complete with flexible post-flight mapping tools. So the geoDVR Gen2 was an obvious choice when we were asked to fly the FLIR on the TwinStar for mountain search and rescue," says Peter Murray, Founder/Operations Manager at Talon Helicopters.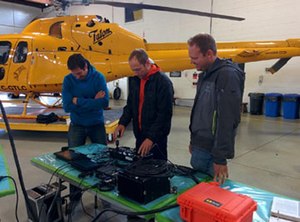 "Adding the FLIR camera to North Shore Rescue's toolbox has been a great enhancement to NSR's capabilities. Having the ability to record and geo-track the location of the video seemed essential to maximizing the full potential of the FLIR camera. The geoDVR allows searchers to review recorded video for clues that may or may not have been observed during the flight," says Jim Loree, North Shore Rescue SAR Manager and Air Operations Coordinator. According to Loree, "This feature could also be highly valuable in a large-scale disaster such as an earthquake where widespread areas are surveyed for damage. Emergency Operation Centers would be able to use the data to help them make decisions on where and how to deploy resources based on the exact location and extent of damages provided by the video recording."
North Shore Rescue and Talon Helicopters will use the geoDVR with a FLIR generously donated by Port of Vancouver to perform helicopter-based SAR operations with color and infrared. Then, using LineVision™ software post-flight, North Shore Rescue will review the geoDVR videos and flight tracks overlaid on Google Earth and Esri maps for training mission planning and recovery operations.
Since North Shore Rescue is an all volunteer organization, Remote GeoSystems donated 18 LineVision Esri Maps and LineVision Google Earth licenses as part of the implementation.
About Remote GeoSystems, Inc.
Remote GeoSystems is a geospatial software and hardware company offering turnkey solutions to easily record, map, report, archive & search "moving-track" geotagged videos, photos and other location-based project files. Products include the industry-first, patent-pending geoDVR™ (geospatial digital video recorder) technology and LineVision™ suite of software.
Unlike traditional video recording systems, the Remote GeoSystems rugged multi-channel geoDVRs log GPS and permanently embed the video with this important location and time data. Post-mission, LineVision video mapping and photo inspection reporting software provides users with simple but powerful tools for geographic video analysis, editing and project packaging while leveraging existing Geographic Information Systems (GIS).
These capabilities allow for more efficient and accurate data collection and the creation of reusable aerial and ground-based survey and inspection work-products across a broad range of industries including:  Unmanned Vehicles, Aerospace & Aviation, Emergency Response, Electric Utilities, Oil & Gas, Rail Transportation, Defense & Security and Natural Resources Management.
Learn more by visiting: https://www.remotegeo.com/
About North Shore Rescue
North Shore Rescue (North Shore Search and Rescue) is a volunteer community-based Mountain Search and Rescue Team based in Vancouver, BC and performs approximately 130 rescue calls a year.
The team consists of approximately 45 volunteers skilled in search and rescue operations in mountain, canyon and urban settings.
The team has existed for 50 years, making it one of the oldest SAR teams in Canada. During this time the number of calls each year has gradually increased. Over the past 50 years the team has been involved in more than 2500 search and rescue operations volunteering over 200,000 hours of effort. These calls have involved over 2000 subjects, and approximately 25% of the calls have involved subject injuries or death.
Learn more by visiting http://www.northshorerescue.com/
About Talon Helicopters
Talon is Vancouver's number one supplier of helicopter services, and the region's largest supplier of intermediate helicopters. Talon is locally owned and operated, and provides exceptional customer service with 20 years of incident and accident free operations. Specialized mission services include search & rescue, broadcast and film, wildfire suppression and utility patrols/operations.
Learn more by visiting http://www.taloncopters.com/